Page Menu
The Angel Fund contributes $1.1 million for ALS research
Since 1997, The Angel Fund for ALS Research has raised more than $15 million to support the work of one of the world's most well-known ALS researchers, Robert H. Brown Jr., DPhil, MD, professor of neurology and director of the Program in Neurotherapeutics at UMass Chan Medical School. That includes a $1.1 million donation the organization made to Dr. Brown's lab at UMMS in 2019. Angel Fund President Richard Kennedy and members of the local charity presented Dr. Brown, who is also the Leo P. and Theresa M. LaChance Chair in Medical Research, with a check in April 2019.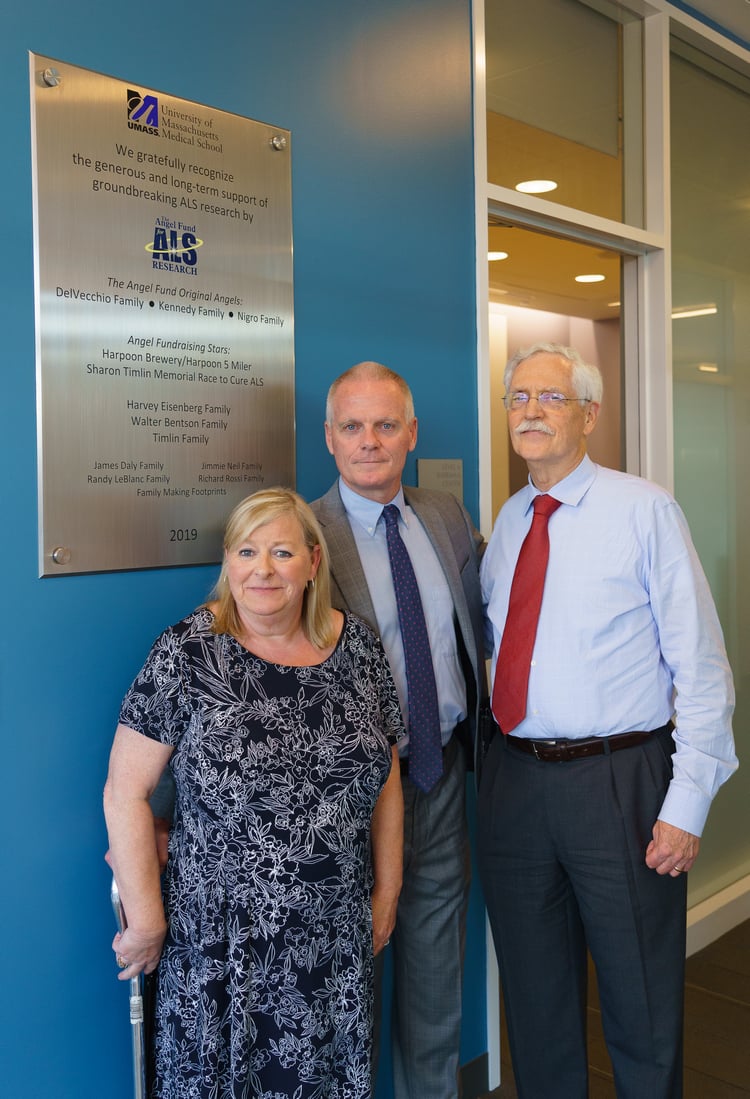 "It has been my personal pleasure to see the extraordinary progress made through the discretionary funding that The Angel Fund provides," said Kennedy. "At a time when funding is so crucial, we are pleased to honor our commitment to Dr. Brown's research with this donation."
Brown and a team of research colleagues are working to develop a therapy to silence genes that promote ALS. Promising new research from Brown and Christian Mueller, PhD, associate professor of pediatrics, was published in October 2018, showing evidence that a therapy using synthetic microRNAs may safely treat patients with ALS. It appeared in the journal Science Translational Medicine.
"Investments in our research from organizations like The Angel Fund have enabled us to proceed into the clinical-trial stage with our gene therapy strategy," said Dr. Brown. "Philanthropy plays a critical role at this phase, as it provides the bridge to take our work from the lab and into the clinic. Without such support, we would not find ourselves in such a positive position."
UMMS recognized the accomplishments of The Angel Fund and Kennedy's personal commitment during the Commencement exercises held in June 2019, where Kennedy received an honorary degree. ALS has been a part of Kennedy's family since 1989, when the disease claimed his father. Several years later, Kennedy's youngest brother died from ALS at the age of 31, and in 2016, Kennedy was himself diagnosed with ALS at the age of 56. The commitment of Kennedy, his family, friends and colleagues at The Angel Fund is more ardent than ever—they advocate and raise money for promising research because it provides meaningful hope to his family and countless others around the globe.
ALS is a progressive, neurodegenerative disease affecting the motor neurons in the central nervous system. The cause of most cases of ALS is not known. Approximately 10 percent of cases are inherited. Though investigators at UMMS and elsewhere have identified several genes shown to cause inherited or familial ALS, almost 50 percent of these cases have an unknown genetic cause. There are no significant treatments for the disease.
Top photo
Dr. Robert Brown leads members of The Angel Fund on a lab tour at UMMS in June 2019.