Page Menu
Trauma-Informed Care Consulting
Implementing trauma-informed approaches can be challenging. Creating holistic, sustainable changes requires buy-in, training, and effective communication at every level.
At Lifeline for Kids, our trauma-informed care consultants guide organizations, agencies, and professionals through this process. We offer expertise, resources, and practical methods to successfully incorporate trauma-informed approaches.
Trauma-Informed Care Consulting Services: Who We Help
We provide consultation for a wide range of organizations and professionals, including:
| | | |
| --- | --- | --- |
| | | |
| Child welfare organizations and professionals | Nonprofits | Courts and justice system professionals |
| | | |
| Government systems | Medical practices and mental health professionals | Schools |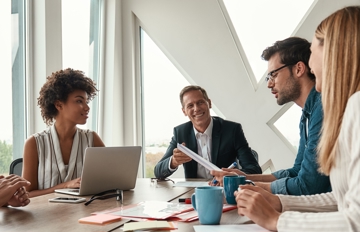 Advancing Trauma-Informed Care:
How We Help
Our consultation services are advancing trauma-informed care around the U.S. We make it easier to adopt trauma-informed approaches into your workflow—whether you need to develop or implement a plan, evaluate services, or improve the health and safety of the populations you serve.
When you partner with us, you benefit from:

Expertise
As pioneers in psychiatry, psychology, and pediatrics, our team has dedicated their careers to improving child mental health care. And we are nationally recognized for developing practical approaches to implementing trauma-informed care in nontraditional settings. These approaches are disseminated through the American Academy of Pediatrics, The National Child Traumatic Stress Network, school districts, courts, early childhood centers, and juvenile justice settings.
We bring this expertise to your teams, helping you tackle the challenges involved in shifting to trauma-informed care. Meet our team

Comprehensive Consultation Services
Our trauma-informed care consultation services provide the support, knowledge, and real-world experience needed to inspire real change. We help with any challenges and situations you face involving child trauma—services may include consultation around how your organization can become more trauma informed, case-specific consultation, and consultation during disaster response.
Whether you need help creating trauma-informed protocols that ensure kids feel safe or assistance writing an amicus brief, we're here to help.

Trauma-Informed Care Trainings
We offer a broad range of trauma-informed care trainings, customized to your unique challenges, and needs. These trainings teach professionals how to become trauma informed, including developing skills to identify, screen, and respond to trauma-related symptoms. See our trauma-informed care trainings.

Individualized Needs Assessments
We conduct individualized needs assessments to customize consulting services to:
The preferences and demographics of the populations you serve
Your schedule
Your needs
Your resources
We also work with senior leaders and systems to provide trauma-informed organizational assessments. These assessments help determine whether your current policies, protocols, staff training, support, and service delivery is in line with trauma-informed care best practices. We make individualized recommendations based on the results of your organization's assessment.