Page Menu
Virtual Poster Guidelines
2022 RNA Therapeutics Symposium Poster Submission Instructions
Please refer to the following instructions before continuing. An annotated version of the form is included below for your convenience.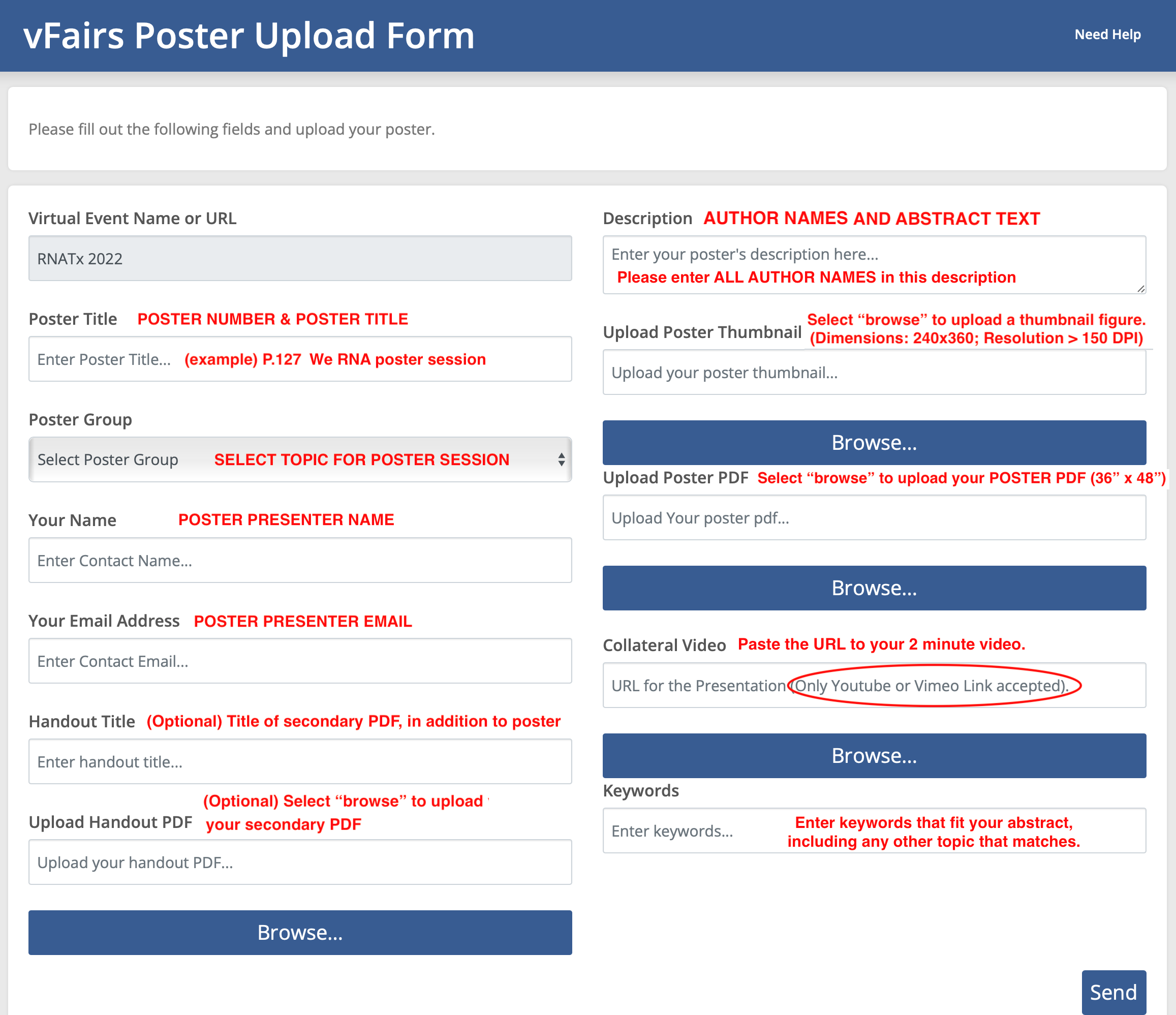 Guidance on poster submission fields:
Virtual Event Name or URL: Prefilled – no input necessary.
Poster Title: POSTER NUMBER AND TITLE
Poster Group: Please select the session topic that aligns with your abstract:
ASOs, RNAi, and Delivery
CRISPR/Cas9
mRNA Therapeutics
N-of-1 Diseases and Drug Development
Regulatory RNAs
RNA Mechanisms
Targeting RNA
Translation
Your Name: The name of the poster presenter.
Your Email Address: The email address of the poster presenter.
Handout: The handout is an optional PDF that you can submit in addition to your poster. The handout may include a summary of the poster, contact information, and/or links to additional information.
Handout Title:(Optional) The title of your handout – this should indicate what the handout is.
Handout Link:(Optional) Click the "Browse" button below this field to upload your handout PDF.
Description: ALL AUTHOR NAMES (including presenter) and ABSTRACT TEXT in this field.
Poster Thumbnail: A representative image of your poster, this can be one of your figures, or perhaps a microscopy image representing your work.
Thumbnail Dimensions: 240x360; Resolution > 150 DPI
Poster URL: Click the "Browse" button below this field to submit your PDF poster. The file-size should be under 20 MB. Template for download can be found here.
Poster Dimensions: 36" x 48" .pdf file with resolution of 300 dpi.
Collateral Video URL: Link to a video of your poster presentation (2-minute limit). You are responsible for posting this video online through YouTube or Vimeo and pasting the link. Detailed information on making your 2-minute video, can be found here.
Designing for Accessibility
Poster presentations are highly visual, and people who are blind or have low vision can understand them more easily if you create your poster with accessibility in mind. Some general tips are included below:
Background and foreground colors should offer good contrast for people with low vision. Red/yellow, red/green, and red/black are particularly difficult to distinguish and should not be used as background/foreground combination. White text on a deep blue background or black text on a white background are better combinations.
Text over a photo or image background is very difficult to read. If you must use a background image, decrease the brightness, and increase the opacity.

If you have any technical questions or need assistance, please contact RNATherapeutics@umassmed.edu