Page Menu
Basic Skills for Tobacco Treatment - Online Course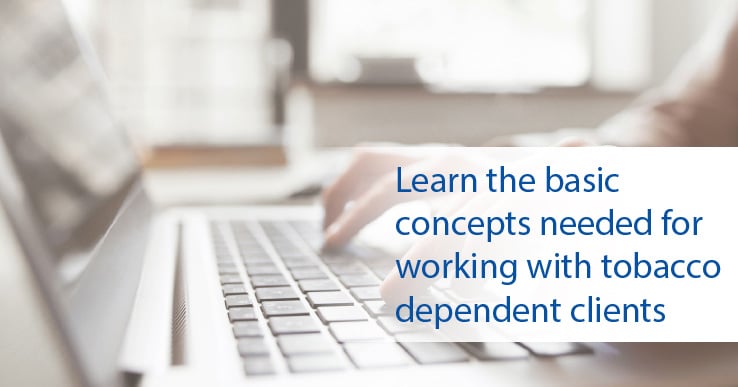 About the course
This is a self-paced, tobacco treatment online course. It provides an overview of the theory and practice necessary for practitioners working with tobacco users. For course content description go to this page

Please note: This course is no longer a pre-requisite for taking Tobacco Treatment Specialist (TTS) Core. For more information about TTS Core, please click here.
Who is This Online Course For
The course is designed for health workers and professionals. It introduces basic concepts needed to help tobacco users quit smoking. Continuing education units, contact hours & total hours are available for:
CHES/MCHES (12)
Social Workers (12)
Registered Dental Hygienists (12)
Certified Substance Abuse Counselors (CADAC/CAC/LADC.)(11), and a
General certificate of completion (12) total hours for all other participants.
To view a list of the organizations that have approved the CEUs go to Basic Online Course CEUs.
Cost
The cost of the online course is $175.

What People Say About Our Course


"I took the training online as a prerequisite to TTS program. It was an extremely good experience. As non-clinician, I think it was very helpful to have a program to help me understand a little bit more. You know, before I got to the TTS program".
Robin C (2017), BSWS online course participant, Ohio.
"I did enjoy the course and have used it several times now in practice. It was one of the best adult education courses I have ever taken. Thank for putting out such a useful, well-formatted program".
Rebekah Sherman (2008), Harbor Health Services, Inc., Dorchester, Massachusetts.
"I thoroughly enjoyed this fabulous course! The use of graphics, charts, links to sites, and inclusion of history made this course outstanding (and memorable)."
Anonymous (2007).
"Great experience with valuable info and techniques I am able to immediately apply in my practice."
Anonymous (2005).
Ready to take the course?