Page Menu
Retrieving your Application from the eRA Commons
To retrieve your e-Application, log into eRA Commons then Click on Status on the selection bar:
The Status screen will appear. Click on the List of Applications/Grants: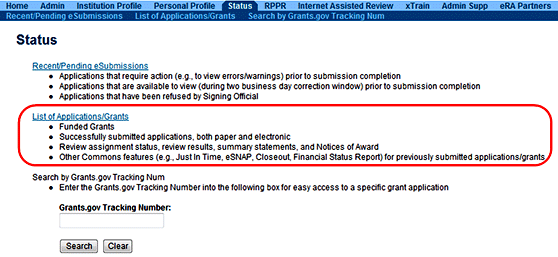 The screen below will appear. Depending on your application history, you may have to sort through multiple applications to select the appropriate project. Once, identified, click on the Application ID on the left:

This will open the Status Info screen. On the right, under the section labeled Other Relevant Documents, you will find your e-Application:

Click on the e-Application to open the pdf. This is the document that needs to be submitted for congruency review should your application be close to the fundable range.