Page Menu
Clinical Care
The Division of Pulmonary, Allergy, and Critical Care Medicine (Chief, J. Mark Madison, MD) offers the following comprehensive, state-of-the-art programs developed to provide optimal treatment for a variety of respiratory conditions of all severities.
Medical Critical Care
Our Critical Care goals are to provide the highest quality of care to all patients with critical illness in a compassionate manner, while teaching the health providers of the future, and researching new ways to restore our patients to full functional capacity. All of the critical care programs at UMass are led by Division member, Dr. Richard Irwin, who Chairs the institution's Critical Care Operations Committee. The Division manages (ICU directors: Nicholas Smyrnios, MD and Peter Bagley, MD) three medical intensive care units of 14-16 beds each that specialize in the care of patients with non-surgical, non-cardiac critical illnesses. Among the medical problems frequently encountered are acute respiratory distress syndrome (ARDS), pneumonia, sepsis, acute asthma and COPD exacerbations, upper and lower gastrointestinal bleeding, hepatic failure, renal failure, overdoses and poisonings, and prolonged ventilator dependency due to acute and/or chronic respiratory failure. Intensivist physicians, nurses, pharmacists, respiratory therapists (Medical Director, Paulo Oliveira, MD), dietitians, physical and occupational therapists, and case managers comprise the multidisciplinary team that cares for each patient. Their efforts are supported and enhanced by our critical care telemedicine service that monitors patient status 24/7. Moreover, our ICU's are the primary site for critical care education for residents, medical students, and students in Allied Health Services and the Graduate School of Nursing.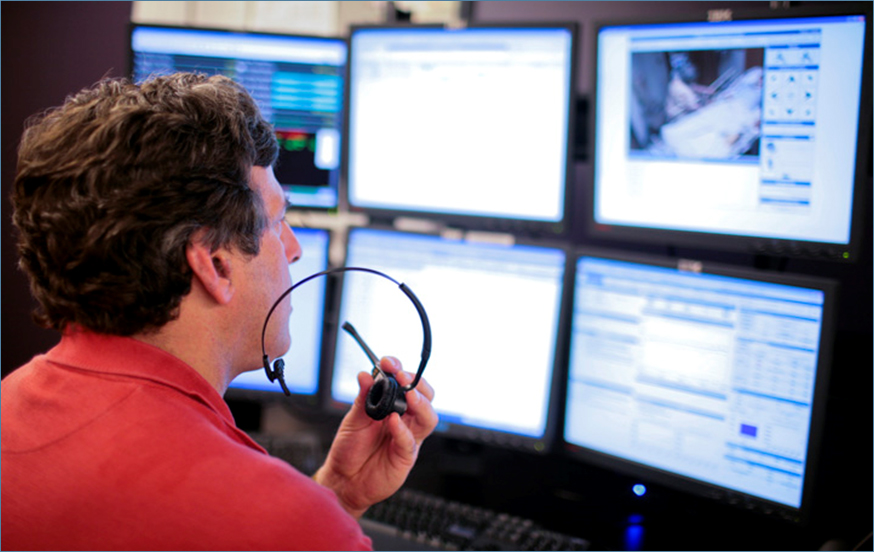 The Division oversees (Director and Associate Director Craig Lilly, MD and Bruce Greenberg, MD) and staffs the institution's critical care telemedicine service. In this state-of-the-art facility, board-certified critical care physicians and critical care NP's electronically monitor the status of all critically ill patients to enhance the patient care provided by the ICU bedside staff. Units are monitored on both campuses and at multiple community hospitals in the region. This real-time monitoring helps identify changes in patient status at the earliest stages, allowing ICU bedside staff to intervene most effectively. The telemedicine service has been a highly successful and cost effective addition to our care of patients, decreasing mortality, improving lengths of ICU and hospital stays, shortening ventilator days, improving patient flow, and reducing complications.
Pulmonary Medicine--Inpatients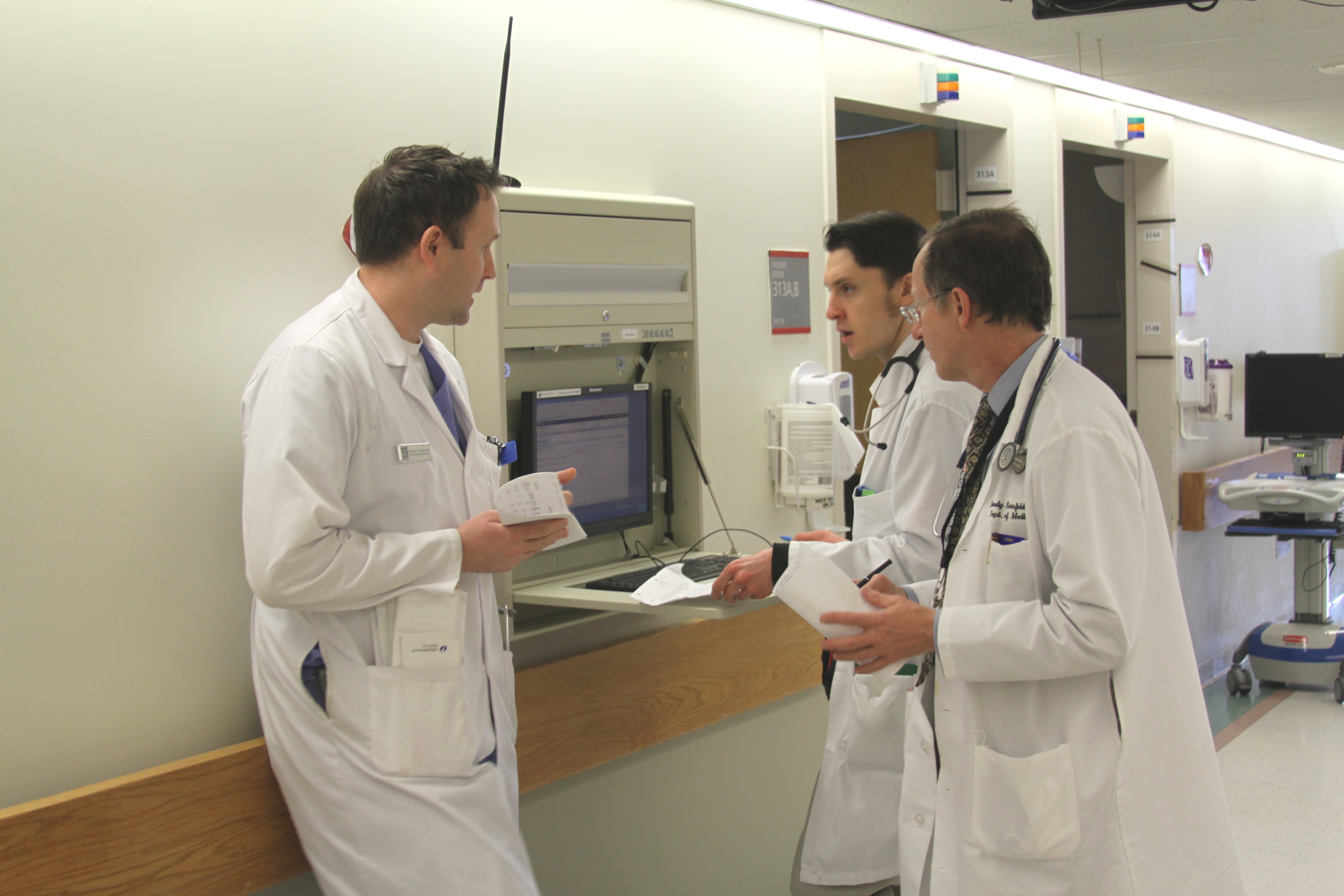 The Division provides consultative services in the fields of pulmonary and critical care to all Departments on both the University and Memorial campuses. The rotating team is comprised of an attending pulmonologist, pulmonary and critical care fellow, residents and medical students rotating on the service. Procedures provided by the teams include thoracentesis and diagnostic and therapeutic bronchoscopy.
The Division's hospital ward service on University campus is overseen by an attending pulmonologist, pulmonary and critical care fellow, and medical housestaff team. Attending physicians rotate every 2 weeks and care for respiratory patients that are either admitted through the Emergency Department, transferred from our intensive care units, or directly from our own clinic. The service provides expertise in managing all respiratory disorders and is an important aspect of continuity of care for the patients we follow regularly in our ambulatory clinic.
Our physicians assist in the management and daily care of patients at area long-term acute care facilities and rehabilitation hospitals. These facilities specialize in the care and rehabilitation of patients with complex medical needs, including mechanical ventilation. On a rotating basis, Division physicians provide pulmonary and critical care consultative services to these patients.
Ambulatory Clinic
The Division provides ambulatory care in its Lung and Allergy Center, a vital aspect of the Division's clinical activity (Director Stephen Krinzman, MD). The clinic provides care for all respiratory disorders, including asthma, COPD, bronchiectasis, venous thromboembolism, interstitial lung diseases, neuromuscular respiratory failure, pulmonary hypertension, lung cancer, pneumonias, allergies and sleep disorders.
In addition, board-certified Interventional Pulmonologists (Drs. Paulo Oliveira and Andres Sosa) provide advanced diagnostic procedures through the clinic. For our Interventional Pulmonary (IP) program (Director, Paulo Oliveira, MD), advanced bronchoscopic and pleural procedures aid in the diagnosis and staging of suspected lung cancers, in treating airway complications of lung cancer, and addressing complicated pleural issues arising from malignant or non-malignant disorders of the pleura. Procedures such as linear or radial EBUS, navigational bronchoscopy, rigid bronchoscopy, airway stenting, and medical pleuroscopy are all available.
Allergy is a major aspect of the Division's ambulatory care (Director and Associate Director, Stephen Krinzman, MD and Whitney Dunlap, MD). Board-certified Allergists and NP providers dedicated to Allergy provide a full range of allergy services to adult and pediatric patients, including allergy skin testing and immunotherapy. Comprehensive outpatient services combine medical management with patient education for optimal control of allergy symptoms, e.g. eczema, hives and swelling. Our staff provides services that are offered by few other clinics, such as diagnosis and treatment of antibiotic/local anesthetic sensitivities, allergic reactions to bee stings, environmental inhalants, latex, and foods.
A special emphasis of the clinic is the diagnosis and management of chronic cough, one of the most common symptoms for which patients seek medical attention. The program (directed by Dr. Richard S. Irwin) is considered a world leader in treating patients with this common condition and attracts national and international referrals. A systematic diagnostic approach and careful follow-up is the hallmark of the program.
The Lung and Allergy Center is supported by the Pulmonary Diagnostic Laboratories (Director, J. Mark Madison, MD) that include routine and specialized pulmonary function testing and pulmonary procedures, such as bronchoscopy with or without fluoroscopy. Lung function testing is conveniently located within the clinic area and includes spirometry, lung volumes (gas dilution and plethysmography), diffusing capacity, bronchial challenge testing, and cardiopulmonary exercise testing (CPET).

Need to schedule an appointment?
Monday through Friday
8:00am - 4:30pm
(774) 443-2781