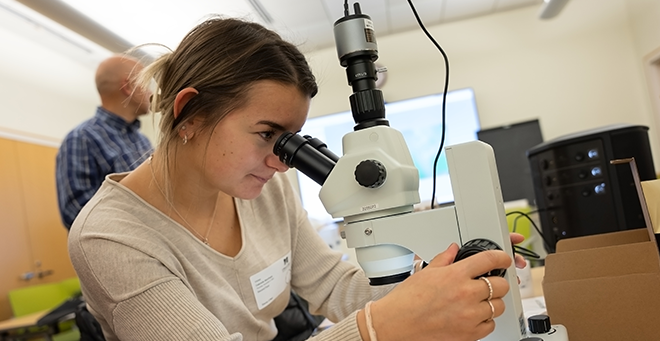 Two dozen Worcester middle school teachers are now specially trained on new light microscopes to advance science curriculum in their classrooms.

UMass Chan Medical School recently hosted 23 science teachers from six Worcester middle schools to show them the ins and outs behind the technology of Accu-Scope light microscopes. The microscopes are equipped with Wi-Fi capability and cameras for simultaneous multiple-user visualization.

"The microscopes will give students the hands-on opportunities to engage in science practices and to actually do science experiments," said David Mangus, PhD, science and engineering curriculum liaison for Worcester Public Schools. "There's a long-standing partnership between UMass Chan and Worcester Public Schools. This is just another opportunity to supplement the resources that we have with new and more modern resources that we haven't had in the past."

Dr. Mangus worked as a scientist for nearly 20 years at UMass Chan before starting his teaching career.

ScienceLIVE (Learning with Interactive Virtual Education), a STEM outreach program managed by the RNA Therapeutics Institute and the Sanderson Center for Optical Experimentation at UMass Chan, received a grant from the Moderna Foundation, the nonprofit charitable arm of the Cambridge biotechnology company, for $55,000 to outfit the schools with new microscopes.

More than 80 microscopes were donated to science classrooms at Worcester East Middle, Sullivan Middle, Forest Grove, Burncoat Middle, University Park and Claremont Academy. The microscopes were delivered to the schools in October. Students are expected to begin using them in the second half of the school year.

Mary Pickering, PhD'06, director of public engagement with science for the RNA Therapeutics Institute, said, "What these microscopes will allow the teachers to do is put more real-life applications into the classroom. Students are very curious. They want to see the world around them. These microscopes will provide an opportunity for them to be able to do that."

ScienceLIVE was launched during the pandemic to provide learning modules with demonstrations and experiments designed for virtual teaching. The program was co-founded by Dr. Pickering; Angela Messmer-Blust, PhD, associate professor of RNA therapeutics and senior scientific advisor in the RNA Therapeutics Institute; Athma A. Pai, PhD, assistant professor of RNA therapeutics; and Christina E. Baer, PhD, assistant professor of microbiology & physiological systems and director of the Sanderson Center for Optical Experimentation.