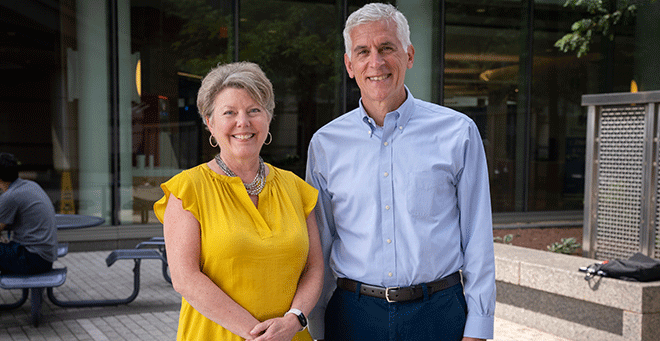 Two UMass Chan Medical School educators are launching the Health Education Academy for Leadership and Learning, or HEALL, a new academy designed to provide valuable educational skills and mentorship for faculty members of the Tan Chingfen Graduate School of Nursing, the Morningside Graduate School of Biomedical Sciences, the T.H. Chan School of Medicine and Graduate Medical Education at UMass Chan.

Anne Larkin, MD, associate professor of surgery and vice provost and senior associate dean for educational affairs, created HEALL following her fellowship in the 2022 Hedwig van Ameringen Executive Leadership in Academic Medicine program.

"We want to provide faculty development for faculty members school-wide and a fellowship so that junior faculty can enhance their teaching skills and get on the promotion track," Dr. Larkin said. "Lastly, we want to recognize the good work of our developed and master educators across our institution."

David Hatem, MD, professor of medicine, and co-director of the Learning Communities in the T.H. Chan School of Medicine, was named director of the HEALL program.

"I think this is an incredible opportunity," said Dr. Hatem. "One of the things that's special about UMass Chan, historically, has been its support for education. The need to purposefully develop clinician educators and scientists in ways that foster their development and promotion has taken on new urgency."

Larkin said many academies across the country are typically limited to one school, but she purposefully worked to include all educators at UMass Chan.

"We're trying to extend across many different domains," said Larkin. "The importance of interprofessional education is not just limited to students. It's critical for us, as faculty members, because there's always something to learn from another discipline."

"The academy starts with support and development of faculty as educators," said Hatem. "The importance of this vision is to purposefully break down silos and promote the educational mission at a time when the educational enterprise is growing. Health care consists of clinicians, scientists and nurses. Many of these individuals focus on practice or research while others combine roles or add significant teaching to their career focus. Sometimes faculty can feel that the clinical or research mission is supported and it may feel to some that the educational mission is less supported. This is a deliberate effort to balance support for all three missions."

The academy's first cohort of core faculty comprises a group of "master educators," including Chancellor's and Dean's Award recipients. In the coming year there will be an Educational Grand Rounds series, an Education Day to highlight key educational work taking place in the institution, and planning for the new Fellowship in Health Education and Leadership.

Larkin said the goal is that in five years, graduates of the HEALL will be poised to become educational leaders at UMass Chan, regionally or nationally. Members of the academy will be engaged in educational projects and the conversation about the practice of health care education and the science of learning will be broadened through HEALL programs and events.

"I believe our fellowship will put UMass Chan on the map in a different way," Larkin said. "Students will feel the positive impact of this community and I think we'll see changes in their own desire to go into academic medicine on an education track. We expect that the academy will impact faculty retention and promotion as well."

HEALL's launch event will be held in the Albert Sherman Center Auditorium on Wednesday, Dec. 13, at 4 p.m. A reception will follow in the Cube.