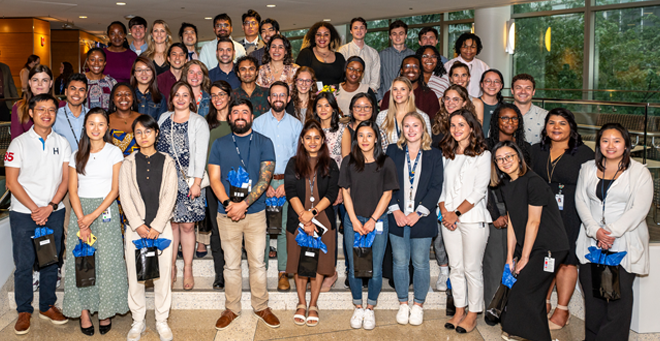 Fifty-three PhD candidates and MD/PhD students at UMass Chan Medical School were celebrated during Morningside Graduate School of Biomedical Sciences' Qualifying Exam Recognition Ceremony on Wednesday, Sept. 13, for passing the exam needed to begin thesis work and transition from student to candidate for a doctoral degree.
"Part of what makes a qualifying exam so scary and part of why you should really celebrate being on the other side of it is that this is probably the highest stakes situation that you have been in up to this point, where you are putting out your original ideas about your research progress, direction and significance," Mary Ellen Lane, PhD, the Donna M. and Robert J. Manning Chair in Biomedical Sciences, professor of neurobiology and dean of the Morningside Graduate School of Biomedical Sciences, said during the ceremony. "The symbolic importance of the gift that we give you, the laser pointer, is as a tool for dissemination—for honoring your responsibility to transparently share your knowledge and your ideas."
Dean Lane's opening remarks were centered around five pillars of a scientific ecosystem that supports innovative science and develops creative, collaborative scientists: transparency, responsibility, understanding, support and teamwork.
"Teamwork is in our institutional DNA. It is what makes our science impactful and our health care effective," Lane said. "Advancing together requires teamwork. Teamwork requires you to fight against the idea that you are powerless, step out of the transactional mindset and recognize your responsibility not to adding to the volume of the accumulation of work product that is generated here, but to contributing to a healthy, inclusive, effective and impactful training ecosystem."
"Our hope for you is that as you mature in your careers in the biomedical sciences that you never lose your childlike sense of wonder from your own discoveries. If you can hold on to that, we're confident that you very well can and will change the world," said Terence R. Flotte, MD, the Celia and Isaac Haidak Professor, executive deputy chancellor, provost and dean of the T.H. Chan School of Medicine.
PhD candidate Jesse Lehman, who studies in the lab of Athma A. Pai, PhD, assistant professor of RNA therapeutics, uses RNA sequencing approaches and quantitative analyses to determine how quickly mRNAs from different genes are produced and matured. Lehman's childhood in Maine was highlighted by conversations about science with his grandfather. After graduating from Worcester Polytechnic Institute with a degree in biology and biotechnology, he worked in the lab of Michelle A. Kelliher, PhD, the inaugural Our Danny Cancer Fund Chair in Biomedical Research I, interim chair and professor of molecular, cell & cancer biology and co-leader of the Cancer Genetics Research Program. It was in Dr. Kelliher's lab that Lehman discovered how biomedical research could affect patients.
"I came to graduate school to learn how to define and address my own complex biological questions. The qualifying exam process reinforced the importance of research autonomy and self-discipline," Lehman said. "When I left the exam room, I felt validated in my scientific ability and ready to truly dive into my thesis work."
Paula Grasberger, a PhD candidate from Salem, Massachusetts, is studying in the lab of Kiera Clayton, PhD, assistant professor of pathology. Grasberger's research is on determining why HIV-infected cells are not effectively killed by other immune cells, a resistance that contributes to the chronic nature of HIV.
"For me, completing the qualifying exam signaled that I am indeed prepared to move forward with my project," Grasberger said. "I came away excited to spend the next several years finding answers to the central questions of my project."
PhD candidate Seden Bedir is working to engineer novel RNA therapeutics through the in vitro selection of internal ribosome entry site sequences in the lab of Li Li, PhD, assistant professor of RNA therapeutics. Bedir was born and raised in Turkey and studied in Turkey, Germany and Switzerland before moving to the United States.
"It is a surreal and wonderful feeling to pass the qualifying exam miles away from my family and my home country," Bedir said. "This accomplishment and the supportive learning environment at the RNA Therapeutics Institute keep me motivated to carry on my thesis research as we advance science together."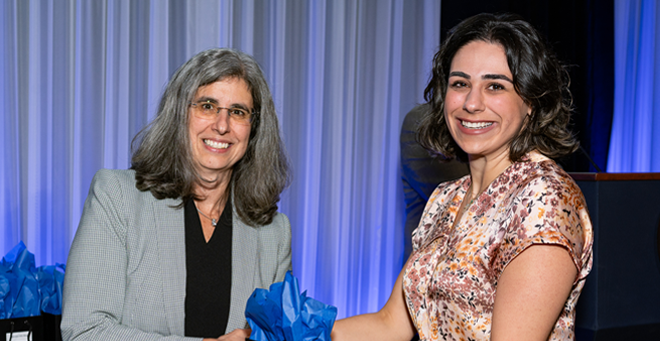 The following students became PhD candidates in academic year 2022-2023:
Akshay Alaghatta, Read Pukkila-Worley lab
Sarah Allen, Anastasia Khvorova lab
Najihah Aziz, Michael Czech lab
Seden Bedir, Li Li lab
Gavin Birdsall, Michael Lee lab
Amina Bradley, Elizabeth Shank lab
Webb Camille, Zuoshang Xu and Paul Thompson labs
Li-Tzu Chen, Jin Zhang lab
Kristy Chiang, Katherine Fitzgerald and Ann Rothstein labs
Bradley Class, Michael Lodato lab
Benjamin Clayton, David Guertin lab
Chinmayee Dash, John Harris lab
Kathleen Desevin, Oliver Rando lab
Alejandro Félix Mejía, Li Li lab
Enxhi Ferraj, Joonsoo Kang lab
Selene Flemming, David Grunwald and Nikolaus Grigorieff labs
Gavin Fujimori, Christopher Sassetti lab
Jenny Gao, Wen Xue lab
Nicholas Gaston, Erik Sontheimer lab
David Gazzola, Beth McCormick lab
Paula Grasberger, Kiera Clayton lab
Jasmine Graslie, Travis Thomson lab
Ashley Harkins, Allison Keeler and Robert Brown labs
Chun-Ying Huang, Andrei Korostelev lab
Christopher Husted, Elinor Karlsson lab
Lauren Intravaia, Celia Schiffer lab
Jafira Johnson, Megan Orzalli lab
Clevanne Julce, Nancy Byatt lab
Kensei Kishimoto, William Flavahan lab
Wei-Che Chester Ko, Manuel Garber and John Harris labs
Yi-Han Lee, Dori Schafer lab
Jesse Lehman, Athma Pai lab
Carmen Li, Amir Mitchell lab
Sophia Liu, Guangping Gao and Phillip Tai labs
Meng-Ping Lu, Gowthaman Uthaman lab
Abigail McElroy, Heather Gray-Edwards lab
Winnie Mkandawire, Andres Colubri lab
Syed Naqvi, Anthony Nunes lab
Shayla Newman-Toledo, Gabriella Boulting lab
Lael Ngangmeni, Kristin Mattocks lab
Atinuke Giovanna Oyinbo, Mara Epstein and Kate Lapane labs
Chaitanya Naimesh Parikh, Marcus Ruscetti lab
Marta Pérez-Vázquez, Lee Quinton lab
Brendan Philippon, Alexandra Byrne lab
Jennifer Powers, Megan Orzalli lab
Youwei Qiao, Wen Xue lab
Meagan Sabatino, Matthew Alcusky lab
Valeria Sanabria, Hyun Youk lab
Nicole Shedd, Zhiping Weng lab
Vista Sohrab, Elinor Karlsson lab
Matthew Unger, James Munro lab
Kristen Woods, Charles Emerson Jr. lab
Xinyue Xia, Jin Zhang lab