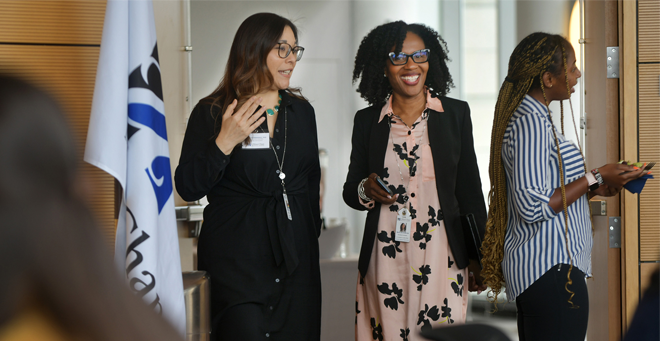 Data from the 2023 Diversity Engagement Survey, administered last spring by the Diversity and Inclusion Office, shows an increase in participation and in an overall favorable response to UMass Chan Medical School's diversity and inclusion efforts.
Administered to the UMass Chan community every three years, the diagnostic and benchmarking tool connects engagement theory to inclusion and diversity constructs and is meant to capture the essence of the relationship between the organization and its members.
The survey garnered 2,700 responses, or approximately 50 percent of those surveyed, up from 36 percent in 2020. Highlights included an overall favorable response to the question of institutional trust (76 percent expressed confidence that the policies, practices and procedures of the Medical School will allow them to bring their best and full self), and an overall favorable response that participants' work or studies contribute to the mission of the institution (90 percent of respondents).
"We were intentional about socializing the importance of this work, committed to actionable strategies and response and have been holding ourselves accountable to integrating these principles into our work," said Jorge Sanchez, MEd, program director for diversity and inclusion, in reflecting on the overall favorable response to the Medical School's diversity and inclusion efforts.
Marlina Duncan, EdD, vice chancellor for diversity and inclusion, credited her team's collaboration and commitment to promoting diversity and inclusion through its work for the increase in participation in the survey.
The survey measured engagement and inclusion through clusters, including vision and purpose, camaraderie and appreciation. The number of favorable responses increased over the 2020 survey in all but two categories, which saw minor decreases. The question of common purpose in the vision and purpose cluster (the individual experiences a connection to the mission, vision and values of the institution) dropped 1.8 points to 83 percent favorable and the question of feeling a sense of belonging in the camaraderie cluster dropped .3 points to 76 percent favorable.
Dr. Duncan said the position of assistant director for campus culture and climate has been added to help address ways to reinforce belonging and other priority areas. She also noted that having outlets to resolve issues helps. For example, restorative justice training will be implemented across the Medical School to lead in these efforts.
Overall, general conclusions from the survey note that diversity and inclusion efforts at UMass Chan have been increasing steadily since 2014.