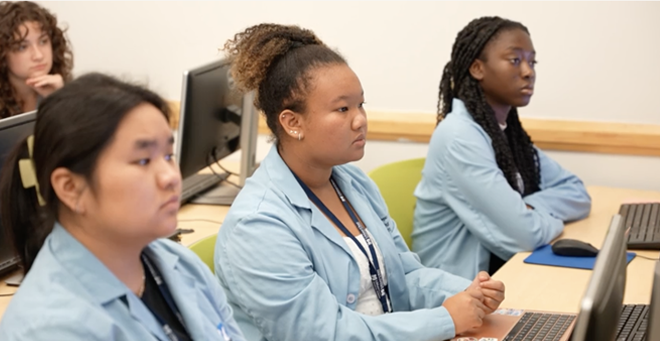 Nineteen rising high school juniors and seniors spent July participating in the immersive 2023 High School Health Careers Program at UMass Chan Medical School.
The four-week, tuition-free program is for high achieving high school students from populations underrepresented in medicine or economically or educationally disadvantaged. The program exposes the students to health care careers at an early stage in their academic development and encourages them to consider futures in health care and science.
"The whole goal of this program is to grow our own and help diversify our workforce. We want these students here. We want to see these students who are academically prepared, to go to finish college and then end up here at the T.H. Chan School of Medicine, the Morningside Graduate School of Biomedical Sciences or the Tan Chingfen Graduate School of Nursing," said Robert E. Layne, MEd, assistant dean for outreach programs and the curriculum coordinator of the High School Health Careers Program.
"If they've already been here and they're comfortable with our campus setting, we hope they choose to return to UMass Chan in the future," Layne added.
Most of the students attend high schools in the Worcester area, with more than half of the group from Worcester Technical High School or Abby Kelley Foster Charter Public High School in Worcester.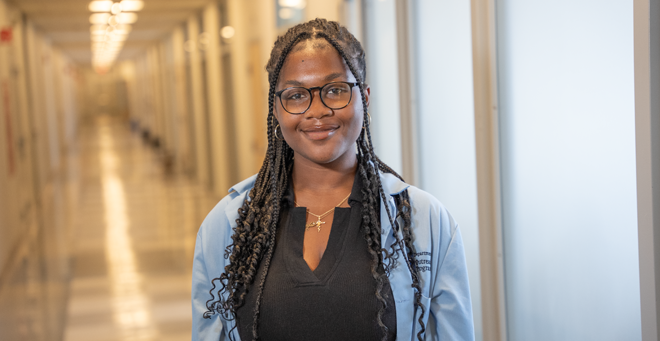 Michelle Fosu, a rising senior at Worcester Tech who hopes to study neuroscience and psychology, said the program is preparing participants for college and giving them their first glance into health care.
"It's an in-depth experience for us to find out what it's like to work in health care and it might help us decide what we want to do with our future," Fosu said.
For the duration of the program, the students stay overnight in dormitories at Worcester State University on weeknights and return home each weekend. On campus at UMass Chan, the students are challenged daily in academic settings, including intensive SAT preparation, and they learn about contemporary issues in health care. The students are required to complete a health disparities research project on a cultural group in Massachusetts. The projects are presented during the final week of the program.
The students also go on field trips to reinforce the science curriculum. This year, students visited the Cummings School of Veterinary Medicine at Tufts University in Grafton.
Each day ends with a health care professional or scientist guest speaker discussing issues relevant to pursuing an education and career in medicine, with topics including "Admission to medical school," "Financing a medical education," and "Journey to MD/PhD," as well as specific areas of study such as public health and data collection and palliative care.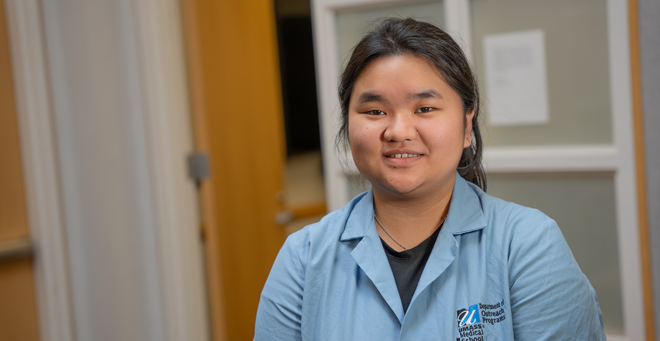 Julianne Chau, a rising senior at Worcester Tech who hopes to pursue a career in physical therapy, said the exposure to health care professionals puts the students at an advantage in terms of deciding what they will do with their future.
"We have speakers from multiple health care professions and other speakers sharing with us how to get into medical school and that process, and it's all really helpful," Chau said. "We're able to get close to these professions to see what it's like. We may not decide to choose that specific health care profession, but we still get the exposure to it."
The High School Health Careers Program is overseen by Layne and Brian Lewis, PhD, the George F. Booth Chair in the Basic Sciences, professor of molecular, cell & cancer biology, associate dean for diversity and pre-matriculation programs for the Morningside Graduate School of Biomedical Sciences, and assistant vice provost for outreach and recruitment for UMass Chan. 
The program's graduation ceremony was held on Friday, July 28. The students received certificates of completion and awards were given for the three best health disparities research presentations.
Applications for the 2024 summer program will open in the fall.
High School Health Careers Program Class of 2023
Khadijah Abdulrasaq, Worcester Technical High School '24
Glory Adu Gyamfi, Abby Kelley Foster Charter Public High School '25
Lawrencia Awortwi Mensah, Abby Kelley Foster Charter Public High School '25
Ariana Burgos, Worcester Technical High School '24
Julianne Chau, Worcester Technical High School '24
Morgan Erinna, Longmeadow High School '24
Esme Fordjour, Abby Kelley Foster Charter Public High School '25
Michelle Fosu, Worcester Technical High School '24
Zaynab Khemmich, Al-Noor Academy, '25
Mame Koduah, Abby Kelley Foster Charter Public High School '24
Velma Martey, Worcester Technical High School '24
Marie Niane, Nipmuc Regional High School '25
Jane Olaniyan, Algonquin Regional High School '25
Eleanor Owusu Ansah, Abby Kelley Foster Charter Public High School '24
Eliana Owusu Ansah, Abby Kelley Foster Charter Public High School '24
Maria Clara Paradela, Worcester Technical High School '25
Amalia Rodrigues, Longmeadow High School '24
Rebekah Saint Clair, Weymouth High School '25
Janelle Sefah, Abby Kelley Foster Charter Public High School '25