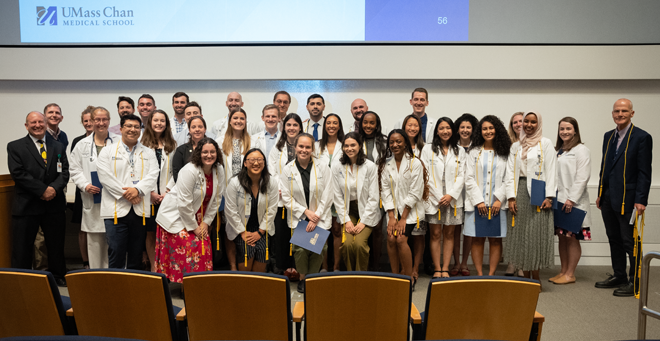 The UMass Chan Medical School chapter of the Gold Humanism Honor Society welcomed 36 new members on Wednesday, May 31, including 26 medical students in the Class of 2024, six residents and four faculty members, all of whom approach patient care with kindness and understanding.
The Gold Humanism Honor Society (GHHS) was founded in 2002, primarily as a way to identify residency applicants possessing outstanding clinical and interpersonal skills. Through support from the Robert Wood Johnson Foundation, the Berrie Foundation, and an anonymous donor, GHHS has inducted more than 45,000 members.
"If, in fact, we're not humanistic in our outreach to our patients, something is lacking in our understanding of what it is we should do," said Chancellor Michael F. Collins. "Being inducted into the Gold Humanism Honor Society, in a public way, with recognition from your peers, gives you the ability and the recognition to be simply the best."
Medical student Bryce Pepin, who starts his pediatrics residency at Massachusetts General Hospital after graduation, was presented with the student Leonard Tow Humanism in Medicine Award. The faculty winner of the Leonard Tow Humanism in Medicine Award, Erik Garcia, MD, assistant professor of family medicine & community health and former medical director of the Family Health Center of Worcester's Homeless Outreach & Advocacy Program, delivered a keynote address about the importance of vulnerability and practicing self-compassion.
"For people who are chronically homeless, one of the truths is that people die, and they die young and they die under the age of 50," said Dr. Garcia. "As I get older, it gets harder and harder because they get younger and younger. Compartmentalization works until it doesn't. Take time to take care of yourself."
"When people are vulnerable, we have a responsibility and a power," Garcia continued. "When they're vulnerable, they're most open to your concern, your respect and your humor, but they're also most vulnerable to disdain and rejection. We're fortunate as physicians that we will always have the opportunity to see this vulnerability and to work with it instead of against it."
Following Garcia's keynote address, a new tradition took place during the pinning ceremony: Student inductees from the Class of 2024 received gold graduation cords. Class of 2023 chapter members will receive their cords on Friday, June 2.
A hallmark of this annual ceremony is when the audience gets to hear how each of the inductees demonstrates humanism. For example, while inducting Alison Asirwatham, MD, a UMass Chan OB-GYN resident, medical student Olivia Ladd-Luthringshauser spoke about Dr. Asirwatham's delicate approach to a patient who suffered a 19-week pregnancy loss.
"Alison sat by the patient's bedside and asked her if she would be interested in receiving the footprints of the baby that she lost," said Ladd-Luthringshauser. "The patient became tearful and said, 'I would love that. Thank you. Everyone is focusing on me, but I'm still grieving for him.' This is the humanism of medicine and Alison models that every day."
This year's GHHS inductees are:
Students
Aya Abou-Jaoude
Read Allen
Kaan Apaydin
Weaam Arman
Vanessa Avalone
Mina Botros
Colin Burnett
Jordan Dudley
Danielle Heims-Waldron
Kassandra Jean-Marie
McKenzie Jones
Christian Keenan
Vincent La

Olivia Ladd-Luthringshauser
Ivy Mwangi
Brian Nickley
Benjamin Potee
Cooper Scherr
Sabine Shaughnessy
Julia Small
Jennifer Sohn
Natalie Sorial
Fiona Splaine
Sara Wang
Stevie Yang
Nathan Yingling
Residents
Jordan Alter, MD
Alison Asirwatham, MD
Meagan Derbyshire, MD (Baystate)
Daniel Drimer Batca, DO (Baystate)
Kara Kimball, MD
Zachary Stickney, MD (Baystate)
Faculty
Maria Hincapie Marquez, MD
Jenny Horowitz, MD (Baystate)
Mark Johnson, MD, PhD
Peter Sell, DO