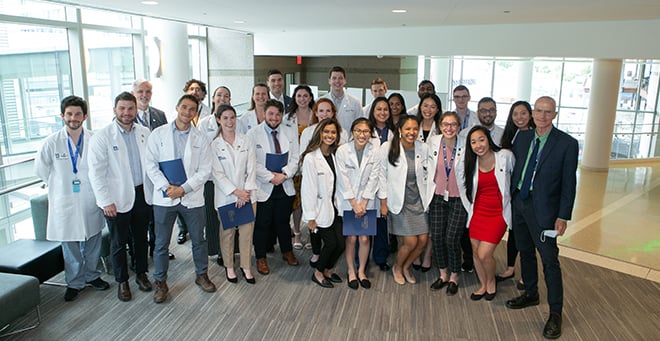 The UMass Chan Medical School chapter of the Gold Humanism Honor Society inducted 36 members on Wednesday, June 1, including 26 MD and MD/PhD students from the Class of 2023, six residents and four faculty members, all of whom demonstrate compassionate, patient-centered care.
"This is Commencement Week, and we begin our festivities with this humanism moment. I think it's particularly appropriate in our Medical School that we do that. We need you," said Chancellor Michael F. Collins, noting that eight of the student inductees are in the Population-based Urban and Rural Community Health (PURCH) track.
Michael C. Ennis, MD, professor of family medicine & community health and the chapter's advisor, presented the student Leonard Tow Humanism in Medicine Award to Bronwyn Wada-Gill, a member of the Class of 2022 enrolled in the PURCH track. The faculty winner of the Leonard Tow Humanism in Medicine Award, Elizabeth Eagleson, MD, FACP, delivered a keynote address on empathy.
"Empathy can, when deployed properly, empower patients, improve trust and help bridge the gaps that impact health. I'm happier and more fulfilled as a doctor when I practice empathy. I take as much joy in my patients' first house or the photos of the family reunion as when they reach their goals for physical health," said Dr. Eagleson, assistant professor of medicine at UMass Chan Baystate.
Founded in 2002, the Gold Humanism Honor Society is a signature program of the Arnold P. Gold Foundation, an international nonprofit organization committed to fostering and maintaining a culture of compassion, caring and respect in health care.
Terence R. Flotte, MD, the Celia and Isaac Haidak Professor, executive deputy chancellor, provost and dean of the T.H. Chan School of Medicine, provided background information on the late pediatric neurologist who founded the foundation along with his wife Sandra.
"I think some people don't realize it's named after the Gold family, but in some ways, it does resonate with the sense that gold is a precious metal. It's found in a very raw state, just as we come as very flawed human beings into the profession of medicine. We have to refine the core essence within us that is capable of having that special presence for our patients and families," Flotte said.
The Gold Foundation also originated the White Coat Ceremony, which has become rite of passage for first-year medical, and more recently, nursing students.
The newest GHHS inductees are:
Students
Ashvin Antony
Jillian Belgrad
Hannah Caringal
Amy Cheung
Emily Chin
Haley Clark
Joseph Douglass
Theo Eldore
Sarah Ferreira
Jason Freedman
Thomas Kania
Peter Keefe
Eleni Kovatsis

Dhanya Kumar
Cindy Le
Mary Marchese
Dalton Mourao
Bryce Pepin
Sabahat Rahman
Caroline Repetti
Michael Urbanowski
Emily Vicks
Bennett Vogt
Shannon West
Jaclyn Wong
Vanya Zvonar
Residents
Coleman Clifford, MD
Ricardo Bello Boccardo, MD
Tim Morley, MD (Baystate)
Aloys Nsereko, MD (Baystate)
April Perez-Moore, DO
Hayley Reddington, MD
Faculty
Eric Churchill, MD, MPH, MSc
Tara Kumaraswami, MD
James Ledwith, MD
Oliver Marasigan, MD
Related UMass Chan news story:
Gold Humanism Honor Society inducts 36 new members at UMMS