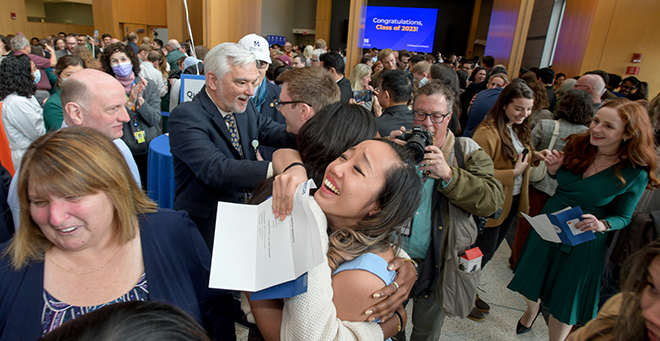 Graduating medical students learned where they will start their medical careers at the 2023 Match Day celebration at UMass Chan Medical School on Friday, March 17. The 149 soon-to-be graduates of the T.H. Chan School of Medicine at UMass Chan Medical School gathered to simultaneously discover where they will continue their education as residents.
"I feel there are two things that you must get in medical school to be a good doctor. First, is clinical training and, second, learning how to be a good human. I think UMass Chan did a great job helping us with both aspects," said Vanya Zvonar, a graduating medical student. "We got exposed to everything. And our focus was on being empathetic, learning to work with our patients. We really got hands-on experience."
Zvonar matched in emergency medicine at The Mount Sinai Hospital in New York City.
Sabahat Rahman, a medical student in the Population-based Urban and Rural Community, or PURCH, track, whose parents immigrated from Bangladesh, learned she had matched at UC San Diego Medical Center in family medicine.
"The longitudinal aspect of family medicine and the wide breadth of training with pediatric, inpatient/outpatient adult care, OB-GYN and some emergency training is the best jack of all trades area for me."
Rahman is passionate about helping refugee and marginalized populations. She is heading to the Himalayas in April through the Global Health Pathway program, eager to provide health care with newfound confidence.
"Every single rotation thus far has been from the standpoint of an unsure medical student. While I'll still be vulnerable to impostor syndrome, I wonder how knowing my next steps as a doctor will affect my experience," she said.
Bryce Pepin discovered he matched at Massachusetts General Hospital in pediatrics with his father, sister and brother by his side, honoring his mother who died during his third year of medical school.
"I always envisioned my mom being here on Match Day and graduation. Going through this process is a tribute to her and her hospitality; she was one of the most welcoming people I know," Pepin said. "I consider it a testament to my mom to go into a field where I get to welcome people at their best and their worst."
Pepin expressed his gratitude to the UMass Chan community members who offered him heartfelt messages and homecooked meals while he was grieving. "At each level, my mentor, residents, students and deans stepped up and made sure I was able to handle this as a someone who was a person first and a medical student second."
Megan Hansen matched in internal medicine at Duke University Medical Center.
Hansen chose to attend UMass Chan to become a physician who not only cares for her patients, but also advocates for systems that promote health and well-being for everyone.
"Growing up in Kansas, I frequently saw my grandparents, who lived in a rural part of the state, drive several hours for medical care. I learned that something as arbitrary as a county line between the richest and poorest counties in the state could predict health outcomes better than any other metric," Hansen said.
Hansen is also in the PURCH track. She volunteered as a case manager with the Worcester Free Care Collaborative, a group of free medical programs in the greater Worcester area. While volunteering, she helped patients connect with community resources like insurance coverage and low-income housing.
"UMass Chan does a great job of taking those core primary care principles and making sure that students are prepared to apply them wherever they go, with a strong focus on the social determinants of health, and a strong focus on building great relationships with patients," Hansen said.
Reflecting the institution's mission to train primary care physicians, 66 students matched in internal medicine, family medicine and pediatrics, representing 44 percent of the Class of 2023. Fourteen students are going into obstetrics and gynecology and 10 into emergency medicine. Fulfilling the Medical School's mission to care for residents of the commonwealth, 61 members of the class will complete some or all of their residency training in Massachusetts, including 26 staying at UMass Chan campuses. Five students completed early matches, two in ophthalmology, two in the military and one in urology.
See video of the full Match Day celebration on Facebook and YouTube.