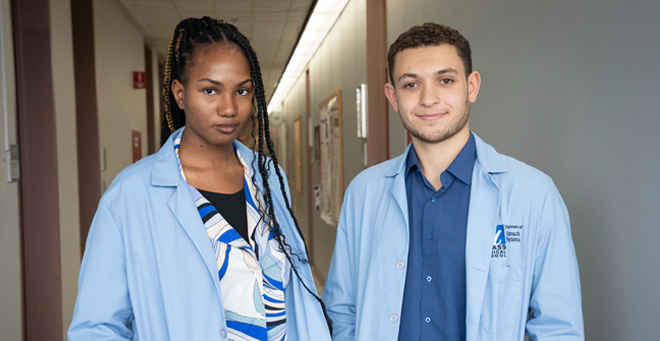 Thirty-eight college students are participating in the 2023 Summer Enrichment Program at UMass Chan Medical School, a four-week intensive immersion program designed to help undergraduates from underserved and underrepresented backgrounds improve their qualifications and competitive standing for medical school admission.
"I've always been interested in health care. Through this experience, I'm hoping to gain more insight directly from people who have achieved the things I want to achieve, people who are community-focused on large scale change, to learn what makes them tick, and learn what has motivated and inspired them," said Mehdi Kayi, a rising senior at Boston College.
Kayi is studying philosophy, biology and public health. He was born and raised in Boston. His parents moved to the U.S. from Morocco. Kayi aspires to have a career that will allow him to play an integral role in both the clinic and in the greater community.
"As a public health student, and from my experiences coming from multiple underrepresented backgrounds, I've become passionate about addressing the macro-level issues and the social determinants of health that disproportionately threaten so many lives," Kayi said. "Whether it's working to increase health literacy in my community or spearheading public health interventions to tackle issues like substance abuse and barriers to care, I am excited to use my education and blessings for the common good."
One-third of the Summer Enrichment Program students attend colleges out-of-state, including Sommy Eneje, a rising senior at University of Maryland, College Park.
Eneje moved to the U.S. from Nigeria seven years ago. She majors in neuroscience with minors in humanities, health and medicine, and is pursuing a career as a pediatric neurosurgeon. She said she discovered the Summer Enrichment Program while researching summer learning opportunities and her advisor at the University of Maryland recommended she apply to the program.
"I'm very happy to be here and I'm very grateful for the opportunity," Eneje said. "I'm hopeful to be able to learn from physicians and health care professionals who have been through the process, as well as my colleagues in this program."
The tuition-free educational immersion, run by the UMass Chan Office of Outreach Programs and the T.H. Chan School of Medicine Office of Admissions, is aimed at increasing diversity in the health care workforce.
Students spend the four weeks attending community and cultural health seminars and meeting medical students and faculty members. The program requires the students to apply themselves to their academics, and work on improving their preparation, study, time management and organizational skills. Students will also take a practice medical school admissions test and participate in mock medical school interviews. During the program, students live in dormitories at Worcester State University.
Summer Enrichment/BaccMD Program Class of 2023
Ashley Abi Chaker – UMass Amherst '24
Jamia (Mia) Andrade* - UMass Lowell '25
Nora Antwi – CUNY Lehman College '24
Hudson Araujo* - UMass Boston '25
Ishivita Bali – Boston University '24
Aurelie Belinette* - UMass Amherst '25
Adam Bentahar – UMass Amherst '25
Paula Chuquimarca Narvaez – Montclair State University '24
Daniel Dong – Massachusetts College of Pharmacy and Health Sciences '25
Jonas Dorsett – Massachusetts College of Pharmacy and Health Sciences '26
Laishawn Duncan – CUNY Lehman College '25
Shakira Ebian* – UMass Amherst '25
Somtochukwu (Sommy) Eneje – University of Maryland, College Park '24
Larissa Ferreira* - UMass Boston '25
Charel Flores – CUNY Lehman College '25
Karla Gallardo – Montclair State University '25
Carl Goldberg* - UMass Amherst '25
Dunia Gomes* - UMass Lowell '25
Morgan Harper – Keiser University '25
Ryan Ho* - UMass Boston '25
Mehdi Kayi – Boston College '24
Ryan Kennedy – College of the Holy Cross '24
Trisha Larios* - UMass Amherst '25
Elianny Lopez Guerrero* - UMass Boston '25
Devin Monaco – Salem State University '25
Francis Nuamah – Fitchburg State University '24
Jade Oshodi – Cornell University '25
Leena Phan* – UMass Amherst '25
Ashly Quezada – CUNY Lehman College '26
Nicole Rodriguez Ortiz – Montclair State University '24
Yin Yin (Annie) Ruan* - UMass Amherst '25
Arden Saintelus – CUNY Hunter College '24
Elisa Sambataro – CUNY Hunter College '25
Jenipher (Jen) Silva* - UMass Amherst '25
Azka Tanveer – College of the Holy Cross '24
Jayla Taylor – Xavier University of Louisiana '25
Cassandra Trevino – Clark University '25
Thailee Zarycki – Fitchburg State University '24
*UMass Baccalaureate/MD Pathway Program Medical Scholars