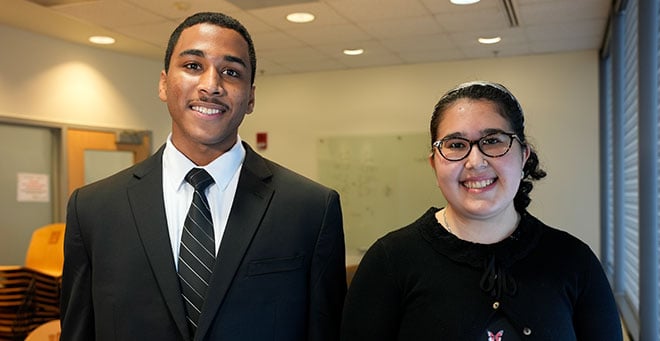 Alison Juray, a rising junior and a biochemistry major at City University of New York-Hunter College, attended the UMass Chan Medical School Summer Enrichment Program this summer to bolster her efforts to apply and succeed in medical school.
"Clarifying the medical school application process is especially important for first-generation students who don't know what to do and when to do it," said Juray, one of 39 students who completed the four-week intensive immersion program designed to help undergraduates from underserved and underrepresented backgrounds improve their qualifications and competitive standing for medical school admission. "The best part of this program are the little things like the clarifications of the AMCAS application, when to take the MCAT and what you should expect during it."
Juray, a New York City resident whose parents immigrated to the U.S. from Tajikistan, is one of the first out-of-state students to attend the UMass Chan program and is considering a medical career in pulmonology and endocrinology to address asthma and diabetes in underserved communities. Her older sisters, who work in health care roles serving underserved communities, have guided and inspired her.
"What first interested me in medicine was growing up in a low-income area and experiencing my family and I not receiving the best care," said Juray. "When I was seen by doctors in more wealthy areas having the resources they need, I was inspired to bring those type of resources back to my community."
The tuition-free educational immersion, run by the UMass Chan Office of Outreach Programs and the T.H. Chan School of Medicine Office of Admissions, is aimed to increase diversity in the health care workforce. Students apply themselves to academics; attend community and cultural health seminars; and improve preparation, study, time management and organizational skills. Meeting medical students and faculty, taking a practice medical school admissions test and sitting in mock medical school interviews give them a feel for what lies ahead. During the program, students live in dormitories at Worcester State University.
Rising UMass Boston junior Ahmed Elamin came to the United States from Sudan with his family five years ago for better educational opportunities and health care access.
"In Sudan, the medical system is tainted and dominated by financial considerations rather than human needs," said Elamin. "I hope to bring the knowledge that I gain here back to improve health care in Sudan."
Elamin's favorite part of the program was the speaker series.
"Everyone exposed me to something that I never knew existed and now my horizons are expanded," he said. "I also learned about communication skills, teamwork and time management."
Like many of the program participants who attend UMass campuses, Elamin, is a member of the UMass Baccalaureate MD Pathway Program. Completing two summer enrichment experiences is a requirement for Pathway Program Scholars, who come from racial or ethnic groups underrepresented in medicine or economically disadvantaged backgrounds, or who are first generation college students. Students who complete all Bacc/MD requirements beginning in their sophomore year have the opportunity for provisional acceptance to the T.H. Chan School of Medicine.
Summer Enrichment Program leaders are looking forward to expanding the program in 2023, when it will begin admitting more students from both Massachusetts and out of state.
Summer Enrichment/BaccMD Program Class of 2022
Antonia Amonu McCarthy, UMass Amherst '24*
Adama Bangura, Fitchburg State '24
Taitu Battiste, Brandeis University '24
Syrah Bradley, UMass Amherst '24*
Eve-Landy Charles, UMass Amherst '24*
Alexzander Cook, UMass Amherst '24*
Reinaldo Costa, UMass Boston '24*
Caroline DeSouza, UMass Lowell '24*
Kerleene Dorceus, UMass Amherst '24*
Ahmed Elamin, UMass Boston '24*
Altagracia Garcia Padilla, Framingham State '23
Ashley Greene, UMass Lowell '24*
Buuthien Hang, UMass Amherst '24*
Lauren Hunter, Framingham State '23
Chisom Ibe, CUNY – City College '23
Alison Juray, CUNY – Hunter College '24
Angelina Khiem, UMass Lowell '24*
Tea Kushmerek, UMass Lowell '24*
Alexander Le, UMass Dartmouth '24*
Racheal Lefevre, Fitchburg State '23
Angeannie Lefevre, UMass Amherst '23*
William Miguel, UMass Lowell '24*
Abanob Mikhail, UMass Dartmouth '23
Tran Nguyen, UMass Lowell '24*
Chibuikem Onwuogu, UMass Amherst '23
Kanitha Ork, UMass Lowell '24*
Hirni Patel, UMass Amherst '24*
Shivani Patel, UMass Lowell '24*
Liana Pereira, UMass Boston '24*
Edward Pham, UMass Amherst '24*
Tiffany Pham, UMass Amherst '24*
Naylene Rivera, Suffolk University '23
Shamsa Roshan, Mount Saint Vincent '24
Dorcas Ruhamya, UMass Lowell '24*
Antonio Santana, UMass Amherst '24*
Akua Serebou, Fitchburg State '23
Katherine Then, MCPHS '24
Samantha Truong, Tufts University '24
Melissa Vieira, UMass Boston '24*
*UMass Baccalaureate/MD Pathway Program Medical Scholars
Related UMass Chan news stories:
Graduating medical students say BaccMD program provided key support early in medical journey
BaccMD graduate wants to serve marginalized populations, expand access to health care
NBC10-Boston report highlights UMass BaccMD program's role in reducing health disparities
Summer Enrichment Program preps aspiring undergraduates with a dose of medical school rigor