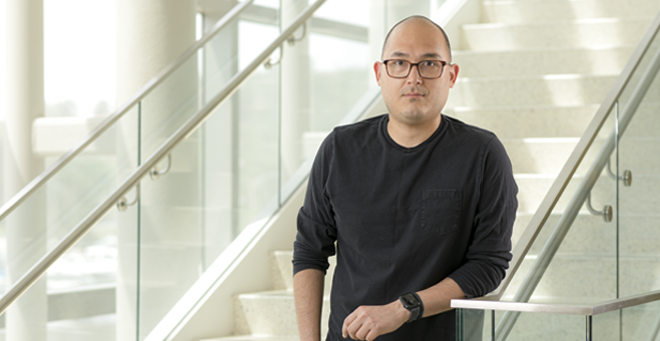 Josué Flores Kim, PhD, assistant professor of biochemistry & molecular biotechnology, is one of five scientists to receive a 2023 Smith Family Award for Excellence in Biomedical Research from the Richard and Susan Smith Family Foundation.
Dr. Flores Kim's lab studies bacteria, specifically the regulatory networks that control cell envelope, surface biogenesis and remodeling, with the goal of discovering fundamental information that could guide the development of new antibiotics.
"We are studying how bacteria grow and divide, and the processes bacteria employ to make their cell surface. That question is important because the cell surface is essential for their survival and it is also the interface between bacteria cells and the environment, host immunity and antibiotics. We have a very big problem with antibiotic resistance, and studying how bacteria build their envelopes might help us define novel vulnerabilities that we could target," said Flores Kim.
The Smith Family Awards Program for Excellence in Biomedical Research supports pretenure researchers establishing their first independent lab. Applicants must be full-time faculty at nonprofit academic, medical or research institutions in Massachusetts, at Brown University or at Yale University.
Jessica Spinelli, PhD, assistant professor of molecular medicine, is also among the five recipients of the 2023 Excellence Award.
The early-career award includes $400,000 in research funding over three years.
"This grant allows our lab to be bolder. One of the things that we're figuring out with this grant is how bacteria become tolerant to a broad spectrum of antibiotics. The Smith Family Foundation spawns bold ideas. The grant allows us to investigate new things in our lab that we wouldn't have had the chance to with other grants," Flores Kim said.
Flores Kim earned his PhD in microbiology at the Vilcek Institute of Graduate Biomedical Science at NYU School of Medicine. He worked as a postdoctoral associate in the Department of Microbiology at Harvard Medical School before joining UMass Chan in 2022.