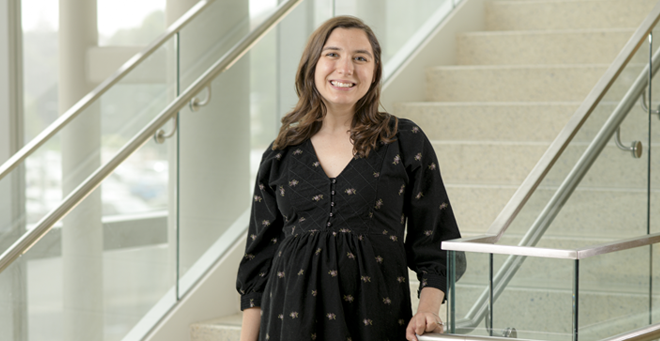 The development of a new strategy to reprogram the mammalian electron transport chain has earned Jessica Spinelli, PhD, assistant professor of molecular medicine, a pair of prestigious honors: selection to the 2023 class of Searle Scholars and a 2023 Excellence in Biomedical Research award from the Smith Family Foundation.
Dr. Spinelli is one of 15 scientists named in this year's Searle Scholars class. The honor includes $300,000 in flexible funding to support her research over three years. The funding will support her lab's research on mitochondrial function in cells.
"Being named a Searle Scholar has totally energized our lab and we feel grateful that they've chosen us among all the many incredible applicants. This award gives us the resources and the support to go after some really big ideas and tackle high-risk projects. We will now be able to take a host of new tools that we developed and implement them in ways that we might not have been able to before," Spinelli said.
Spinelli and her lab members are leveraging the discovery of a new mammalian metabolite and mitochondrial pathway to develop tools to reprogram the electron transport chain. A mammalian metabolite is a small molecule that supports cellular functions. Metabolites are the breakdown products of the food that we eat and the building blocks for the components of the cell.
The electron transport chain can be likened to the battery of the cell—it is essentially the passage of electrons between protein complexes inside the mitochondria that supports energy and metabolite synthesis, according to Spinelli.
"One of the topics highlighted in the Searle Scholar grant is mitochondrial disease. There are some electron transport chain complexes that can get mutated in certain mitochondrial diseases. We suggest a strategy to use a new path to circumvent the need for those complexes to restore mitochondrial function in the cells that don't have it," Spinelli said.
During her fellowship at the Whitehead Institute for Biomedical Research, Spinelli and her colleagues discovered that fumarate can be an alternative terminal electron acceptor for the mammalian electron transport chain as a replacement for oxygen to make energy. This insight ultimately led her to the discovery of the new mammalian metabolite that drives the electrons onto fumarate as an electron acceptor.
Spinelli said, "The amazing thing about this metabolite is that it has such a fundamental role in cell biology. It regulates mitochondrial function by driving a new path in the electron transport chain. So instead of the electrons getting passed from molecule A to molecule B, they get passed from molecule A to molecule C. Now what we're starting to do is understand the consequence of this new pathway at a fundamental level and the ability to exploit this alternative pathway to treat disease."
Spinelli also received a Smith Family Award for Excellence in Biomedical Research from the Richard and Susan Smith Family Foundation. She and Josué Flores Kim, PhD, assistant professor of biochemistry & molecular biotechnology, are two of just five scientists to receive a 2023 Excellence Award. The early-career award includes $400,000 in research funding over three years.
Spinelli, who earned her PhD in chemical biology from Harvard University, joined UMass Chan in 2022 after completing her postdoc at the Whitehead Institute for Biomedical Research.
Founded in 1980, the Searle Scholars Program is administered by Kinship Foundation, a private philanthropic foundation, and is funded through the Searle Funds at the Chicago Community Trust.
The Smith Family Awards Program for Excellence in Biomedical Research supports pretenure researchers establishing their first independent lab. Applicants must be full-time faculty at nonprofit academic, medical or research institutions in Massachusetts, at Brown University or at Yale University.