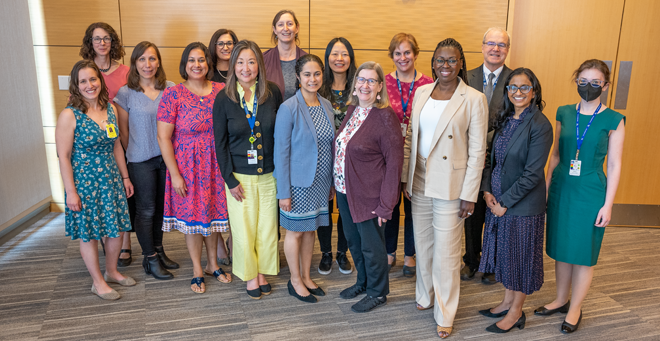 The 23rd annual Women's Faculty Committee Awards honoring women in science and health care for achievements in early career development, clinical service, mentoring, education, health equity and community service at UMass Chan Medical School were presented on Monday, May 8.
In opening remarks, Chancellor Michael F. Collins highlighted UMass Chan's focus on gender equity and the many champions of gender equity working at UMass Chan, including the new award recipients.
"Taken together, the award recipients embody the breadth, depth and excellence of our faculty who are the heart and soul of the institution and who contribute so much to the vitality and dynamism of our humanity and medical school," Chancellor Collins said.
Seven faculty members were honored at the annual event, including, Jennifer Bradford, MD, assistant professor of family medicine & community health; Jennifer Carey, MD, associate professor of emergency medicine; Zhiping Weng, PhD, the Li Weibo Chair in Biomedical Research, professor of biochemistry & molecular biotechnology and director of the Bioinformatics and Integrative Biology Program; Tara Kumaraswami, MD, associate professor of obstetrics & gynecology; Mary Munson, PhD, professor of biochemistry & molecular biotechnology; Athma Pai, PhD, assistant professor of RNA therapeutics; and Jill Zitzewitz, PhD, associate professor of radiology.
The awards are sponsored by the Office of Faculty Affairs and the Women's Faculty Committee of the Diversity and Inclusion Office. More than 40 nominations were submitted to the Office of Faculty Affairs for this year's ballot.
Carolynn M. DeBenedectis, MD, associate professor of radiology, vice chair for education and director of the radiology residency program, delivered the keynote address, "Diversity, Equity & Inclusion in Medicine: How You Can Help," highlighting the importance of diversity, equity and inclusion in medicine for the wellbeing of both patients and physicians. Dr. DeBenedectis commented on the need in medicine for women mentors and sponsors; research in diversity, equity and inclusion; utilizing pathway programs; and making sure everyone is represented in clinical trials to reduce health care disparities.
"We have a lot of opportunities as physicians and researchers to help with diversity, equity and inclusion, and it's for the good of everybody working in medicine. You don't have to do this as a selfless act that you don't get any benefit from," DeBenedectis said. "Women tend to fall prey to that in academics more than anyone. You really want to help create an inclusive environment in your work setting."
Mary Ahn, MD, vice provost for faculty affairs and professor of psychiatry and pediatrics, shared statistics on women in leadership roles at UMass Chan that show the Medical School that exceed national benchmarks reported by the Association of American Medical Colleges, including the number of women faculty (48 percent faculty are women at UMass Chan compared to 41 percent nationally), associate professors (47 percent compared to 41 percent nationally) and full professors (33 percent compared to 25 percent nationally) that identify as women.
"It's really something to celebrate. Women are better represented at UMass Chan than the national average for medical schools. And it's pretty much across the board," Dr. Ahn said.
The recipients of the 2023 awards sponsored by the Women's Faculty Committee of the Diversity and Inclusion Office are:
Christine K. Cassel Faculty Scholar Award: Jennifer Bradford, MD, assistant professor of family medicine & community health
Sarah Stone Excellence in Education Award: Jennifer Carey, MD, associate professor of emergency medicine
Women in Science & Health Achievement Award: Zhiping Weng, PhD, the Li Weibo Chair in Biomedical Research, professor of biochemistry & molecular biotechnology and director of the Bioinformatics and Integrative Biology Program
Excellence in Clinical Services Award: Tara Kumaraswami, MD, associate professor of obstetrics & gynecology
Outstanding Mentoring to Women Award: Mary Munson, PhD, professor of biochemistry & molecular biotechnology
Early Career Achievement in Science & Health Award: Athma Pai, PhD, assistant professor of RNA therapeutics
Outstanding Community Service Award: Jill Zitzewitz, PhD, associate professor of radiology