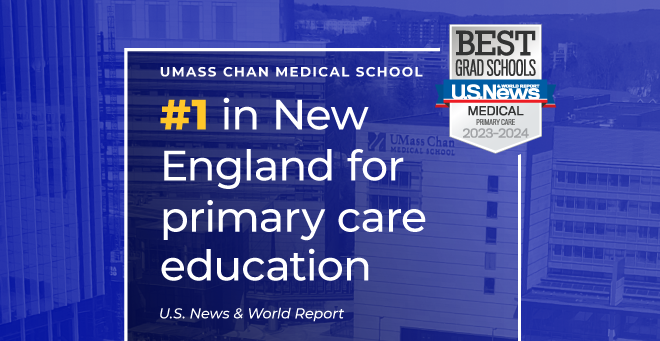 The T.H. Chan School of Medicine at UMass Chan Medical School is best in New England and in the top 10 percent nationwide for primary care education according to the U.S News & World Report 2023-2024 Best Graduate Schools rankings. Additionally, UMass Chan ranks in the top 50 U.S. medical schools for research.
"True to our mission, our community of collaborators at UMass Chan Medical School is advancing medicine and science, together, training the next generation of compassionate physicians, researchers and advanced practice nurses," said Chancellor Michael F. Collins.
"This recognition is rooted in the exceptional work of our world-class faculty, staff and students in the lab, the clinic, classroom and community, who are working together to improve the health and wellness of the commonwealth and the world," said Terence R. Flotte, MD, the Celia and Isaac Haidak Professor, executive deputy chancellor, provost and dean of the T.H. Chan School of Medicine.
The U.S News & World Report Best Medical School rankings evaluate schools on faculty resources, the academic achievements of entering students, and qualitative assessments by schools and residency directors. The research rankings, which cover 130 medical and osteopathic schools, also include four measures of research productivity, including National Institutes of Health funding. The primary care rankings of 123 medical and osteopathic schools incorporate two metrics for graduates going into primary care.
UMass Chan has consistently ranked among the top medical schools for primary care education since U.S. News debuted its rankings more than 25 years ago, reflecting the Medical School's core mission. This year, 66 students, or 44 percent of the T.H. Chan School of Medicine's graduating class, are headed to serve residencies in primary care and related specialties, including internal medicine, family medicine and pediatrics.
Furthermore, the class size of the T.H. Chan School of Medicine is increasing in part to meet the growing need for primary care physicians—rising to 225 medical students for the incoming class in 2025. And a new regional campus, UMass Chan-Lahey, is being added in partnership with Lahey Hospital & Medical Center, part of Beth Israel Lahey Health. The first cohort of medical students participating in the new LEAD@Lahey track will begin in August 2024. The new regional campus builds on the success of UMass Chan's first regional campus at Baystate Health established in Springfield in 2015, which is home to the Medical School's Population-based Urban and Rural Community Health track.
In addition to its educational mission, UMass Chan has built a reputation as a world-class research institution, attracting more than $300 million annually in research funding. According to the Blue Ridge Institute for Biomedical Research, UMass Chan received $178 million in NIH funding in fiscal year 2022, ranking second in New England and 37th nationally in NIH funding among 140 medical schools, public and private, that receive NIH grants. A new, 350,000-square-foot education and research building is under construction to accommodate the Medical School's growth. The nine-story building will expand research space to accommodate more than 70 principal investigators and add educational and conference spaces when it opens next year.