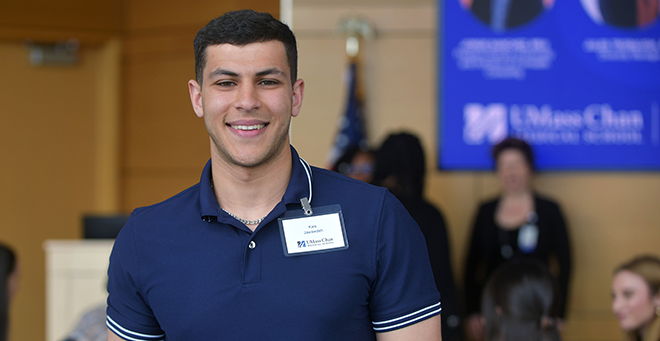 Accepted medical students from as far away as Washington, Florida and Wisconsin participated in the T.H. Chan School of Medicine Second Look Inclusive Connections and Belonging event on March 27.
UMass Chan Medical School holds Second Look days to give accepted MD and MD/PhD applicants a sense of what attending the medical school and living in Worcester is like. This was the first year UMass Chan offered a half-day program specifically for prospective students who are underrepresented in medicine (URiM).
"We encourage you to ask questions," said Marlina Duncan, EdD, vice chancellor for diversity and inclusion, said in opening remarks at the event planned by the Diversity and Inclusion Office. "We want you to feel like you belong here when things are good, and to feel comfortable enough to speak up when things are not."
First-year medical student Christina Nguyen is a house representative for the Grafton Hill Learning Community who helped plan the event.
"Second Look shows you the general vibe of your class, which I considered very important in my decision making," said Nguyen. "I wanted to spend these four years of my life in medical school with people I liked and connected with, especially coming from the West Coast and being so far from family and friends."
On the importance of welcoming URiM applicants to campus, Nguyen said, "Medicine is supposed to be for anyone and everyone; that should be reflected in the people who deliver health care. Populations that have the most distrust in the health care system are often the demographics least represented in medicine. Increasing representation in health care is the first step to rebuilding relationships with populations that have been marginalized."
Prospective medical student Kais Jawawdeh drove to Worcester from North Philadelphia.
"I got up early, hopped in my car and, four-and-a-half hours later, I found myself at UMass Chan," Jawawdeh said. "I'm thankful to UMass Chan for giving me the opportunity to be here; it's a beautiful campus."
Jawawdeh, a biochemistry major at Temple University, became interested in medicine because of a shared love for soccer with his pediatrician.
"My pediatrician had a little soccer field in his office, and I loved soccer," said Jawawdeh. "Initially, I wanted to be a pediatrician. Then my soccer journey continued, and I got hurt. I went to see orthopedic surgeons, which sparked my interest in orthopedics."
Tracy Kedian, MD'96, associate dean of admissions and professor of family medicine & community health, said she was glad to return to an in-person Second Look program after three years of virtual visits during the pandemic.
"I love seeing our accepted applicants meet each other and share their excitement about coming to UMass Chan," said Dr. Kedian. "I want them to have fun and to see that this is a community that welcomes them."