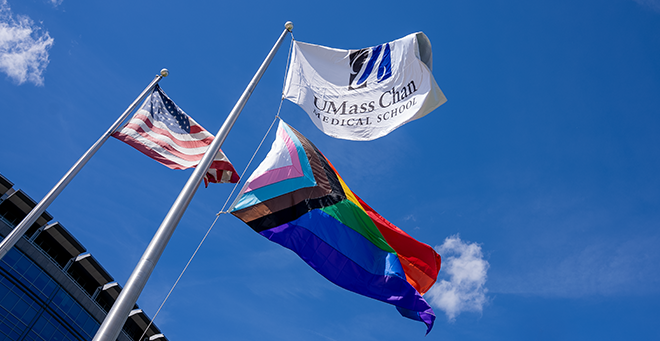 In recognition of its commitment to diversity, equity and inclusion, UMass Chan Medical School was named one of "America's Greatest Workplaces 2023 For Diversity," by Newsweek and market data research firm Plant-A Insights.
The companies said the list is based on a review of publicly available data, interviews with human resources professionals and an anonymous online survey of a diverse pool of employees at companies with 1,000 or more employees in the U.S. Respondents were asked questions about corporate culture, working environment and other subjects at both their own companies and others they were familiar with.
UMass Chan Vice Chancellor for Diversity and Inclusion Marlina Duncan, EdD, said the Medical School has instituted a number of initiatives focused on cultivating a diverse, equitable and inclusive environment, most notably the addition of a diversity, equity and inclusion pillar to the 2025 IMPACT strategic plan. She said a major strength of the DEI pillar is the institution's commitment to monitoring the implementation process, the continuous assessment of needs and its commitment to accountability through a robust system of oversight.
"We know that diversity, equity and inclusion are central to achieving our mission," Dr. Duncan said. "Our charge is to create a community of health care providers, researchers and educators dedicated to advancing knowledge, health and wellness in the service of the community, the nation and the world. This requires bringing together and supporting the work of exceptional students, faculty and staff from all backgrounds and all lived experiences."
Duncan said UMass Chan has expanded the staff in the Diversity and Inclusion Office, increased training and professional development opportunities, and created several affinity groups to increase the sense of belonging among its most marginalized community members.
Last month, UMass Chan was named to Boston Globe's 2022 list of Top Places to Work in Massachusetts. It was the only institution of higher education in the commonwealth to be named to the 2022 list, which included 150 organizations of all sizes and industries. Last August, UMass Chan was named to the top 50 of the Forbes' list of America's Best Employers by State 2022. The analysis was released by Forbes and Statista Inc., the statistics portal and industry ranking provider.
Related UMass Chan news stories:
UMass Chan Medical School named one of Boston Globe's Top Places to Work
UMass Chan Medical School named to Forbes' list of Best Employers in Massachusetts