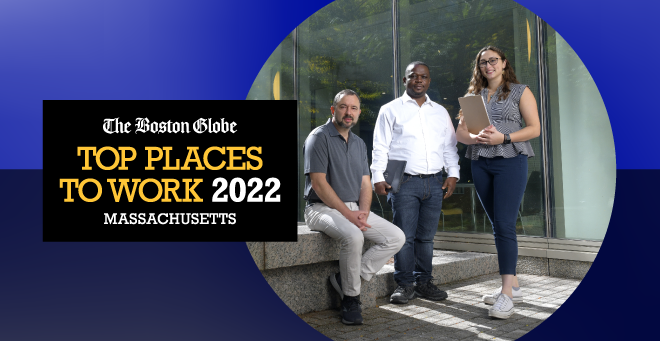 UMass Chan Medical School has been named to The Boston Globe's 2022 list of Top Places to Work in Massachusetts. UMass Chan is the only institution of higher education in the commonwealth to be included on the 2022 list, which includes just 150 organizations of all sizes and industries. The entire list of the state's Top Places to Work is now published online and will be in a special edition of The Boston Sunday Globe Magazine this Sunday.
This distinction is based on results of a confidential employee engagement survey that 55 percent of UMass Chan's full-time benefited employees participated in last June. Words that came up most in the survey to describe the UMass Chan experience were inclusive and collaborative. Employees also frequently used the words welcoming, supportive and respectful to describe company culture.
"The aggregated survey results provide us with feedback about our Medical School's collaborative, connected and inclusive community; strong performance in research, education and public service; and in identifying areas of opportunity and potential improvement," Chancellor Michael F. Collins said in a memo to employees. "The leadership team recognizes that our employees are by far our most important asset and key to achieving our ambitious strategic plans."
According to Linda Henry, CEO of Boston Globe Media Partners, the companies on the list are "truly innovative and exciting places to work."
The Boston Globe consulted with Energage to conduct the survey. Energage teamed up with more than 50 media partners across the United States this year to survey more than 2 million employees in more than 6,000 organizations.
UMass Chan is the commonwealth's public medical institution. Part of the UMass system, it is home to a more than $300 million research enterprise, three schools and two business divisions. MassBiologics of UMass Chan Medical School is the only nonprofit, FDA-licensed manufacturer of vaccines and biologics in the United States. Commonwealth Medicine is the public service consulting and operations division of UMass Chan. The T.H. Chan School of Medicine at UMass Chan Medical School is ranked 10th in primary care education by U.S. News & World Report in its 2023 rankings of America's best graduate schools. UMass Chan ranks 47th in research and the Tan Chingfen Graduate School of Nursing is 44th in best nursing schools for Doctor of Nursing Practice programs.
Related UMass Chan news stories:
UMass Chan Medical School named to Forbes' list of Best Employers in Massachusetts