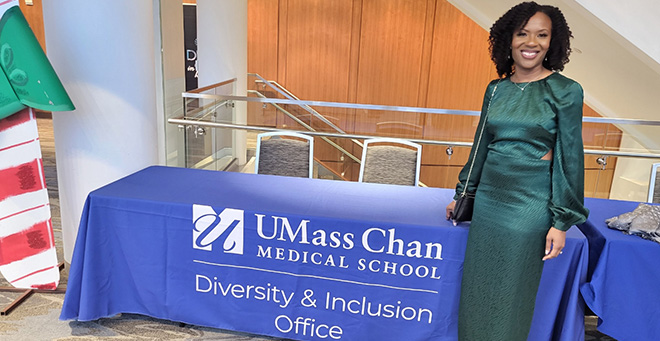 Marlina Duncan, EdD, vice chancellor for diversity and inclusion at UMass Chan Medical School, received the Diamond Award for Excellence in Education, Leadership, Diversity, Equality, Inclusion, Humanitarian, Philanthropic and Community Engagement from an Atlanta-based nonprofit on Saturday, Jan. 21.
Founded in 2010 by the Not Alone Foundation, Inc., a nonprofit organization dedicated to the awareness and prevention of kidney disease, the Diamond Awards honor individuals in the entertainment and business worlds who have made a significant impact on their industries.
Dr. Duncan has had an extensive career that ranges from teaching in the classroom to leading institutions in becoming more equitable spaces for learning and working. Since arriving at the Medical School in 2020, Duncan pushed for the addition of a diversity, equity and inclusion pillar to the 2025 IMPACT strategic plan, expanded the staff in the Diversity and Inclusion Office, increased training and professional development opportunities, and created several affinity groups.
"I am humbled and truly grateful to receive this award for the work that I love to do," Duncan said as she reflected on the importance of this recognition. "I appreciate the opportunity to serve UMass Chan Medical School and help advance the critical work in diversity, equity, inclusion and belonging."
Related UMass Chan News stories:
UMass Chan named among 'America's Greatest Workplaces 2023 For Diversity,' by Newsweek, Plant-A Insights
LISTEN: Marlina Duncan on how community can work together on diversity, equity, inclusion