UMass Chan partners with Worcester to outfit elementary students with backpacks and school supplies
Students in City View, Grafton Street and Union Hill schools receive notebooks, binders, markers and more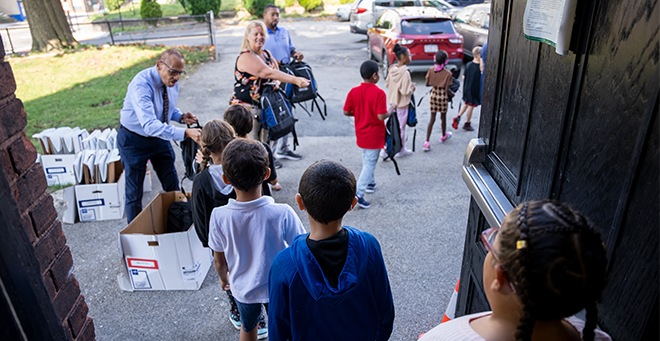 Hundreds of Worcester students received backpacks filled with school supplies for the new school year thanks to the support of the UMass Chan Medical School community.
The bags were distributed to students in first through third grade at City View, Grafton Street and Union Hill elementary schools on Tuesday, Aug. 30. Nearly 89 percent of the students in the three schools identify as low-income.
"The backpacks mean everything. It really helps us create and foster a sense of belonging in the school," said City View elementary school principal Greg Tremba. "And then certainly the connectivity with UMass Chan as a strategic partner really just empowers the school to be able to give kids what they need."
The backpacks and school supplies were funded by students, faculty and staff who directed their UMass Chan Cares charitable campaign donations to North Quadrant Support Services.
Additionally, 15 UMass Chan students helped clean out a common area at City View as part of UMass Chan's "Day of Service, Night of Fun" service event on Saturday, Aug. 27. Also, 15 students volunteered at Girls Inc. of Worcester on Providence Street.
"UMass Chan has been an unbelievable partner," said Maura Mahoney, manager of social emotional learning for Worcester Public Schools. "They target the whole northern quadrant and really, it's a blessing."
Earlier this week, several North High School and UMass Chan student volunteers assisted members of the Office of Community and Government Relations and personnel from other departments in unpacking 22 pallets of school supplies and filling the roughly 600 backpacks for delivery to the schools.
Fourth-year medical student Aditya Vangala was among those filling backpacks.
"I just wanted to help out. I grew up in Massachusetts. I love mentoring and tutoring. I was in Big Brothers Big Sisters. I love helping out," Vangala said.
Each backpack included a binder, notebook, markers and other necessary school supplies, as well as the Emma RNA Saves the Day coloring book, which was created by a team of scientists at UMass Chan.
Related UMass Chan news stories:
Worcester elementary students greeted with supply-filled backpacks from UMass Medical School
New Remillard Family Fund at UMMS supports community service