UMass Chan Prevention Research Center targets COVID-19 spread in the community
The front line in the battle against COVID-19 now encompasses the hospital setting as well as the community, where the UMass Chan Prevention Research Center is working with partners to promote vaccination, track infections and tackle social determinants of health affecting vulnerable groups.
"What we're doing now builds off of all the strong relationships that the Prevention Research Center has had with community partners since we were first funded in 2009," said Stephenie P. Lemon, PhD, the Marcellette G. Williams Scholar, professor of population & quantitative health sciences and co-director of the Prevention Research Center. "We've been working with the Worcester Division of Public Health, the Worcester Office of Health & Human Services, the state Department of Public Health and others since the very beginning to provide epidemiologic infrastructure, data and evidence-based support."
One major push has been to promote acceptance of COVID-19 vaccines and boosters among youth, children and families through a vaccine ambassador campaign that is grounded in local vaccination data, parent voices, behavior change theory and evidence-based practice. It is co-developed through partnerships with the Worcester Office of Health and Human Services, the Worcester Division of Public Health and many other organizations.
The vaccine ambassador campaign focuses on the words of trusted messengers, people relatable to the community who can talk about the reasons why they decided to be vaccinated against COVID-19.
With support from the U.S. Centers for Disease Control and Prevention, UMass Chan researchers and partners developed an intervention to address vaccine hesitancy featuring youth as vaccine ambassadors in the community, particularly those who are at high risk of severe illness and less likely to get vaccinated. This training produced the multimedia #PostVaxLife campaign, with posters, fliers, billboards, public service announcements and bus signs featuring vaccine ambassadors sharing their motivation to get vaccinated and directing people to the vaccine clinic at the Worcester Public Library.
"The idea behind it is that people learn through messaging, and they like to hear from people like them," said Dr. Lemon. "That's a really effective health promotion technique and so we built an entire campaign starting with those young adults."
Walk into the Benedict UMass Memorial Pediatric Primary Care offices on the University Campus and you will see posters of physicians, nurses and nurse practitioners, and a Spanish-speaking pediatrics resident saying why their families received the COVID-19 vaccine and why they encourage others to do so. The posters are one response to parents' desire to hear more about vaccines from their child's health care provider.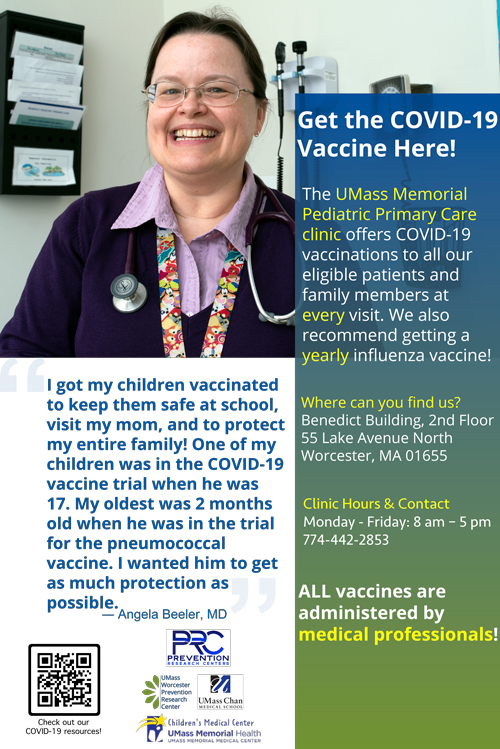 The Prevention Research Center's poster campaign, accompanied by an evidence-based approach to talking with families, was embraced by the pediatrics group for a few reasons, explained Angela L. Beeler, MD, associate professor of pediatrics and division chief of general pediatrics.
"First of all, everybody should know up front that we are very pro-vaccine, so I feel it helps prepare families that we're going to have this conversation," she said. "I also think, in a completely different vein, it's just nice to have pictures with names and faces, because often in a big clinic like ours, it can be hard to remember who people are."
Dr. Beeler said approximately half of eligible children in the practice have been vaccinated. The response from pa