STAT News has selected a research team from UMass Chan Medical School to compete in its 2022 STAT Madness competition. Members of the public are invited to vote for the best biomedical research from 2021. The first round of voting, which will narrow the field from 64 to 32, begins on Tuesday, March 1.
UMass Chan's entry is a paper published on Dec. 23, 2021, in Nature Medicine. Using a short, synthetic chain of chemically modified nucleotides engineered in the Medical School's RNA Therapeutics Institute, Robert H. Brown Jr., DPhil, MD, professor of neurology, Jonathan Watts, PhD, associate professor of RNA therapeutics, and colleagues showed the ability to suppress mutant forms of the ALS (amyotrophic lateral sclerosis) gene known as C9ORF72 in a single-patient pilot study. The results have the potential to catalyze research into treatments for familial ALS, familial frontotemporal dementia and other neurodegenerative diseases.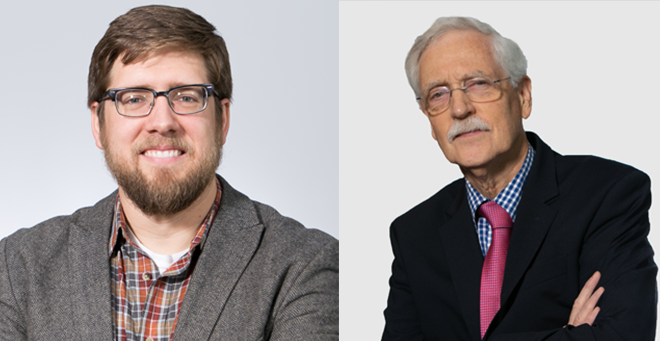 The therapeutic, using an antisense oligonucleotide injected into the spinal canal, led to a significant reduction of ALS-related neurotoxins known as dipeptide repeat proteins in the trial subject's spinal fluid. During the course of the trial, the subject's ALS functional score rating and other measures of impact were largely stable or slightly improved. The patient, who had been experiencing weakness in the legs and feet before treatment, had no neurological or medically adverse effects from the treatment.
Dr. Brown, the Leo P. and Theresa M. LaChance Chair in Medical Research, is lead author of the Nature Medicine study and Dr. Watts is co-lead-author of the study.
Other study authors include Helene Tran, PhD, instructor in neurology, and Michael Moazami, PhD, former postdoctoral associate in the Watts lab and currently a medical student at Oxford University Medical School, Oxford, United Kingdom, as well as an extensive clinical trials team. This study was funded by the Angel Fund for ALS Research, with additional support from the National Institutes of Health, ALS Finding a Cure, ALS ONE, the Max Rosenfeld ALS Research Fund and the UMass ALS Cellucci Fund.
Members of the public are encouraged to vote for their favorite research teams beginning Tuesday, March 1. The first round of voting closes at 11:59 p.m. on Monday, March 7. The winning research team will be named in early April after six rounds of voting. Follow our coverage of the competition on Twitter, Facebook and LinkedIn.
Related UMass Chan news stories:
UMass Chan clinical trial shows antisense oligonucleotide safely suppresses mutant ALS gene in pilot human study
Two UMass Medical School research teams chosen to compete in STAT News competition
Two UMass Medical School research teams to compete in 2020 STAT Madness competition
Two UMass Medical School research teams named STAT Madness 2019 contenders
UMass Medical School innovation chosen for 'STAT Madness' contest