Chief Information Officer Gregory R. Wolf has received a 2021 BostonCIO of the Year ORBIE Award. Awards were presented in eight categories during a virtual ceremony on June 18; Wolf received the ORBIE in the health care category.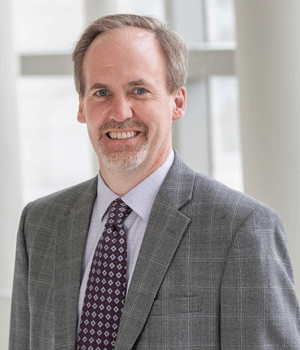 "This past year showed just how impactful information technology is in the service of health care," Wolf said. "My team is honored to support the amazing researchers, students, faculty, clinicians and health care professionals at UMass Medical School. I'm proud to accept the 2021 BostonCIO of the Year Award in Healthcare on behalf of the entire UMass Medical School IT department, the most passionate and dedicated group of technologists I've had the privilege to lead."
Wolf oversees a team of more than 200 people who work in productivity services, academic technology, research technology, information security, operations and engineering. The ORBIE honors chief information officers who have demonstrated excellence in technology leadership. Finalists and winners are selected through an independent peer review process led by prior ORBIE recipients. BostonCIO has presented the awards in partnership with the Boston Business Journal since 2015.
"The BostonCIO ORBIE winners demonstrate the significance of strong technology leadership in these uncertain times," said Brenda Shield, executive director of BostonCIO. "Over the past year, CIOs are leading in unprecedented ways and enabling the largest work-from-home experiment in history. The ORBIE Awards are meaningful because they are judged by peers—CIOs who understand how difficult this job is and why great leadership matters."
Looking back on his eight years as CIO at UMass Medical School, Wolf said he is most proud of how UMMS IT responded to the COVID-19 pandemic. In collaboration with various stakeholders on campus, the department participated in regular meetings to develop COVID-19 response plans in February 2020.
"By March 1, we knew COVID-19 was going to directly affect the Medical School. Within a rapid two-week succession, it was, 'Let's execute these what-if scenarios,'" Wolf said.
One challenge arose when the state needed additional staffing for long-term care facilities. IT and Commonwealth Medicine automated the matching of long-term care facilities with available and certified care workers.
The need to develop a self-reporting health status tool also presented an opportunity for the team.
"It's not that we hadn't done data integrations before, but it was like, wait a minute, this is very sensitive data. We generally don't keep this data in these locales. How do we integrate this? How do we quickly build campus safety tools? How do we get information to the dean's office on a daily basis?" Wolf recalled.
Prior to coming to UMass Medical School, Wolf served as the executive director of research computing platforms at the Novartis Institutes for Biomedical Research. He's also held IT positions at Athenahealth, Parametric Technology Corporation and State Street Bank. Wolf has a bachelor's in operational research and information engineering from Cornell University.
Related stories on UMassMed News:
UMass Medical School CIO Greg Wolf selected as finalist for CIO of the Year award
Gregory Wolf named UMMS CIO