Gregory Wolf named UMMS CIO
Novartis research computing executive to start in March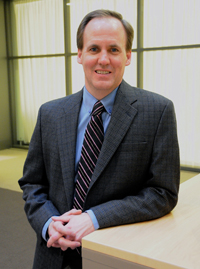 Gregory R. Wolf, the executive director of research computing platforms at the Novartis Institutes for Biomedical Research (NIBR) in Cambridge, will join UMass Medical School as chief information officer in March.
"I'm pleased to announce that an information services leader with such exceptional capabilities will join us at UMass Medical School," said Robert E. Jenal, executive vice chancellor for administration and finance. "Wolf has an impressive background of successively responsible positions in large organizations, including AthenaHealth, Parametric Technology Corporation and State Street Bank."
At Novartis, where he has been since 2009, Wolf (at right) was responsible for both infrastructure and aligning technology solutions and IT processes to best meet the business needs of the company's scientific community. He led a160-person team across nine global locations, focused on accelerating the pace of scientific discovery; he managed NIBR's dedicated IT infrastructure, application solutions for labs, scientific instrument support, data generation and management, and personal productivity toolsets; and built and managed a massively scalable, reliable infrastructure across several data centers in support of research's unique processing requirements, while being responsible for a $24 million operating and $14.5 million capital budget. At AthenaHealth, Wolf re-engineered IS infrastructure to significantly improve reliability and stability, thereby supporting rapid business growth, particularly with enterprise clients.
"The CIO position is a role that requires both breadth and depth of experience. We will look to Wolf to provide executive leadership for approximately 150 staff and manage combined budgets of $30 million, overseeing our IS strategic and tactical planning, organizational management, financial management and project governance, and day-to-day IS operations," said Jenal. "We will also look to him to provide leadership and vision for the development and use of research computing, information systems, resources and technology that support the school's academic and administrative needs. He will also have the opportunity to work collaboratively with the research, clinical, education and business department units to develop best practices and standards related to the technologies utilized for clinical, educational, research programs, and administrative and business systems, including Commonwealth Medicine."
Raised in New Jersey, Wolf received his bachelor of science degree in operational research and information engineering in 1988 from Cornell University. He lives in Sudbury.