Reinfection with the SARS-CoV-2 virus has occurred among people who previously were sick with COVID-19, but the number of reported cases is still very small, according to a UMass Medical School infectious disease specialist.
Researchers are studying variants of the virus to track its infection patterns, hoping to identify whether reinfections might be from different strains.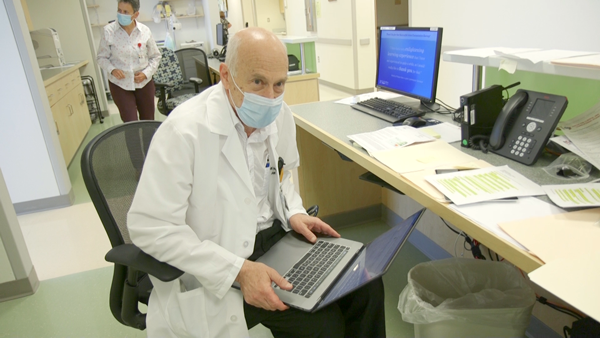 Robert W. Finberg, MD, chair emeritus and distinguished professor of medicine, and a member of Gov. Charlie Baker's COVID-19 Vaccine Advisory Group, said COVID-19 isn't like the measles, in which once you have it, you're not likely to have measles again.
But estimates of reinfection depend on how it is defined. An estimated 1 percent or less of people who have had COVID end up very sick or hospitalized from another COVID infection, Dr. Finberg said. However, shedding the virus after recovering from COVID or even receiving one of the vaccines may be more common.
"The thing you can say about the three vaccines we're giving, is that hospitalization is extremely rare in a vaccinated person. That doesn't mean that they don't get the virus. It's not really quite the same thing," he said.
Most cases of COVID-19 in individuals who have been inoculated or have previously had the virus are likely asymptomatic, according to Finberg.
Reinfections, as well as the long-term continuation of symptoms among some people who have had COVID, are aspects of the pandemic that researchers are still seeking to understand. And they're keeping an eye on global trends. Right now most reports come from case studies and it will take time to get solid statistical data, said Finberg.
"Most of us who are doctors have been humbled by the surprises that this virus has had, so we're a little wary," Finberg said. "It looks good that infections are leveling off. On the other hand, there are new variants out there that have caused a lot of trouble in Europe, so I have some concerns."
He said the best thing we can do to protect the population is get as many people vaccinated as possible.
Also, Finberg said, "Don't let your guard down. The virus isn't finished with us yet. I know we're tired of all the precautions, but I'd hate to see the virus come back."
Related stories on UMassMed News:
UMass Medical School students among volunteers at opening of Worcester's first large-scale vaccine site
UMass Medical School announces partnership in large-scale COVID-19 vaccination site in Worcester
Coronavirus variants explained: Conversation with John Haran