UMass Medical School, in partnership with the Commonwealth of Massachusetts, the City of Worcester, Worcester State University and Saint Vincent Hospital, will play an integral role in a COVID-19 large-scale vaccination site that will open later this month on the campus of Worcester State. The site is expected to be open on or about February 16.
City Manager Edward Augustus and Worcester Mayor Joseph Petty were joined by Worcester Public Health Medical Director Michael Hirsh, MD, Saint Vincent Hospital CEO Carolyn Jackson and UMMS Executive Vice Chancellor for Commonwealth Medicine Lisa M. Colombo in announcing this complex and strategic team effort to organize, establish, staff and manage a vaccination site that, when fully operational, will administer as many as 2,000 vaccinations per day.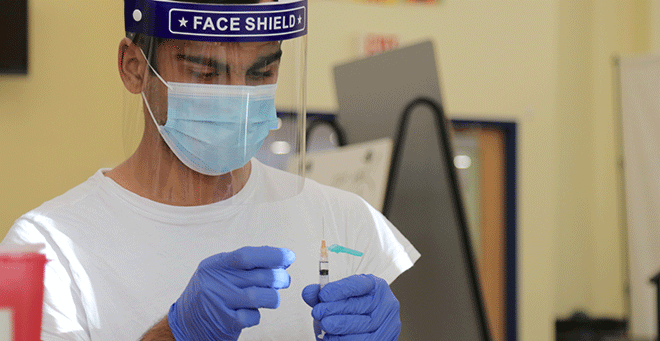 "UMass Medical School, through the exceptional work of faculty, staff and students in Commonwealth Medicine and all three of our schools, will work with these institutional partners on clinical oversight, vaccine-related logistics and administration, and volunteer staffing," said Chancellor Michael F. Collins.
The large-scale vaccination site in Worcester is the sixth announced so far by the commonwealth; it will be located at the John P. Brissette Competition Court in Worcester State University's Wellness Center at 486 Chandler Street. Over the past six weeks, the Medical School has worked with state, local, public and private organizations to take this major step forward.
Saint Vincent Hospital will serve as the clinical partner, providing daily clinical and operational leadership at the site. UMass Medical School and Commonwealth Medicine will provide logistical and project management staff and expertise. In total, several hundred UMMS student and staff volunteers are expected to play key roles in this initiative.
"I know I speak for all of our team here when I say we are honored to help lead this essential mission with our partners," said Chancellor Collins.
"Our collective goal is the health of our community and making sure everyone receives a vaccine as soon as they are eligible," said Dr. Colombo said at the announcement.
In a pilot of the Vaccine Corps that began in early January, UMass Medical School students have worked under the direction of the Worcester Department of Public Health to inoculate first responders at the Worcester Senior Center, residents of homeless shelters and other vulnerable populations. The Vaccine Corps concept is expected to expand with the goal of recruiting volunteers in communities across the commonwealth.
"Efficient, timely and equitable access to COVID-19 vaccines is paramount and I am proud that our colleagues at Commonwealth Medicine and hundreds of our students are dedicated to ensuring that vulnerable people and the general population will be able to receive vaccines in the months ahead," said Collins.
People interested in volunteering at vaccination sites can learn more and register at https://commed.umassmed.edu/.
Massachusetts residents are encouraged to find vaccination sites near them by logging onto the commonwealth's website: https://www.mass.gov/info-details/covid-19-vaccination-locations.