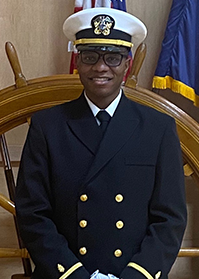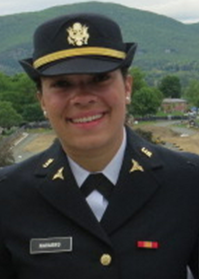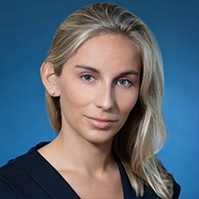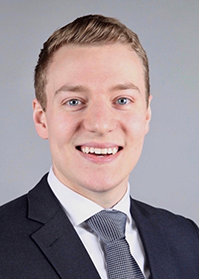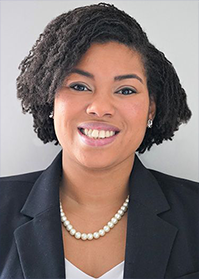 Six School of Medicine Class of 2021 students took part in early match programs and recently learned where they will serve their residencies. Two pursued military matches and four chose specialties outside of the National Resident Matching Program general match, which takes place on Friday, March 19.
"This has been a residency match year that has been extraordinarily challenging for everyone, presenting each student with much more than the usual stress and uncertainty," said Sonia Chimienti, MD, associate professor of medicine, vice provost for student life and enrollment and associate dean for student affairs. "The students in this class, in a humbling demonstration of their resilience and dedication to the profession, rapidly pivoted, modifying their educational plans, embracing the virtual interview experience, and repeatedly asking what they could do to contribute to the health and well-being of their patients and their peers during this pandemic."
Navy Ensign Kevin White and U.S. Army 2nd Lt. Maria Navarro participated in the military match and learned on Jan. 6 where they will serve their residencies.
"Becoming a military doctor comes with immense opportunities, one of the most important being the ability to gain leadership skills and strength in a medical setting," said White, a Springfield native who is headed to Walter Reed National Military Medical Center in Maryland for internal medicine. White participated in the UMass Baccalaureate MD Pathway program and the Population-based Urban and Rural Community Health track. "I did an away rotation at Walter Reed and I felt like I belonged there. In my future, I hope to use my experience to serve underserved populations and make an impact on the urban-rural community I live in."
Navarro, a West Point graduate, will do her residency in general surgery at Brooke Army Medical Center in Texas.
"I've always been drawn to science and technology, particularly biology and chemistry," Navarro said. "I realized how much I love our soldiers and I love taking care of them and their families. I feel they are my people and it's where I fit in best. Working in surgery in a deployed environment, I felt like it was important to have the best trauma exposure possible so I can be prepared for anything."
Andrew Gusev, Brooke Moore, Asia Matthew-Onabanjo and Michelle Shabo matched in urology residency programs on Feb. 1. Gusev and Moore are both headed to Massachusetts General Hospital.
"I decided on urology during the first week of medical school. I love working with older populations, and more than half of the patients that we see are over 65," Moore said. "Research is a significant interest of mine and I hope to pursue different clinical investigations during and after residency. I plan to eventually do fellowship in either reconstructive or gender affirming surgery."
"Urology is an amazing field that allows physicians to form long term relationships with patients and manage their conditions both medically and surgically," said Gusev. "I'm thrilled to have matched at my top choice."
Matthew-Onabanjo will head to University of North Carolina School of Medicine after receiving her MD and PhD degrees through the Medical Scientist Training Program, and Shabo will head to Beth Israel Deaconess Medical Center through Harvard Medical School.
"I love that research allows you to explore, play and be innovative. In addition, it can eventually lead to potential avenues to save lives. I also love the continuity of care that you can have," said Matthew-Onabanjo. Her twin sister, Ashley Matthew, MD, PhD'20, matched in urology last year at Virginia Commonwealth University, her first choice. "I also matched at my number one choice and it feels so surreal."
Shabo is eager to serve patients.
"My mother and father are from Poland and Syria, respectively. I am the first person in my family to graduate college and now subsequently medical school," Shabo said. "We have a congenital form of vesicoureteral reflux in my family, so I experienced firsthand the positive impact that urologists and surgery can have on patients' lives and their quality of life. This journey is incredibly full circle for me."
Related stories on UMassMed News:
Early match success for School of Medicine 2020 students
Asia Matthew-Onabanjo and Ashley Matthew top poster awardees at N.E. Science Symposium
New Springfield campus of medical school focused on urban, rural community health