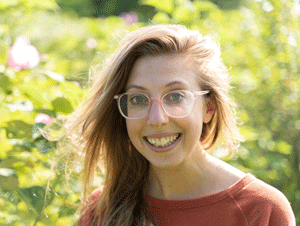 Research exists around gender, sexual orientation and weight status inequities and eating disorders, but little is known about how these disparities intersect and what role social determinants may play, according to graduate student Ariel Beccia.
Beccia, a PhD candidate in the Clinical & Population Health Research program in the Graduate School of Biomedical Sciences, recently received a $98,000, three-year Predoctoral Individual National Research Service Award from the National Institutes of Health to study the social epidemiology of eating disorders by gender, sexual orientation and weight status. Her work, which is the focus of her dissertation, also addresses methodologies for social epidemiology research and health disparities across multiple dimensions of identity.
Her findings, Beccia hopes, will someday lead to population-based prevention strategies.
Previous research has shown that young women, those who identify as LGBTQ and people of higher than healthy weight have a higher risk of eating disorders, Beccia said. Few studies have explored why.
"Most of the research that we have looks at things specific to an individual, like body image dissatisfaction or internalizing a 'thin' cultural ideal," she said. "Very little research has looked at social and interpersonal factors. That may explain why certain minority or marginalized social groups have a higher risk."
Beccia said evidence suggests stress, trauma and discrimination lead to higher rates of disordered eating behavior such as binge eating. Bullying based on sexual orientation, for example, may lead to chronic stress and disordered eating.
"But these factors haven't really been studied from an epidemiological perspective and they haven't really been studied in conjunction with one another to see if they may pattern risk across social groups," she said.
To untangle these issues, Beccia is using data from the Growing Up Today Study (GUTS), begun in 1996 with children of participants in a large multigenerational study, the Nurses Study II cohort, who were between the ages of 9 and 14 at the time. Nearly 17,000 girls and boys—now adults—were recruited in the initial phase of GUTS.
Beccia will look first at patterns of eating disorder risk across gender, sexual orientation and relative weight status. She then plans to look at "upstream" factors to see what patterns might exist in relation to the observed risks, which might include weight stigma and bullying based on gender or sexual orientation. She will examine broader social environments as well, including state policies around gender and sexual orientation discrimination.
"So for example, I'll be looking to see if people who live in states that have more protections around sexual orientation discrimination and gender discrimination have a lower risk of eating disorders and disordered eating behaviors compared with individuals who live in states without those protections," she said.
Beccia will also use measures that characterize policies against discrimination, acceptance of sexual minorities and the prevalence of gay-straight alliances in schools, access to reproductive health care and gender wage gaps at the state level.
"Ideally, I would like to be able to look at, for example, the prevalence of sexual harassment and sexual violence, which are hypothesized to be risk factors for eating disorders because they are more related to body-based discrimination," Beccia said. "However, that measure doesn't exist yet; so that's definitely an area for future research."
Beccia, who has personal experience with an eating disorder, has been interested in researching this topic since she graduated from college, where she ran on the cross-country team and saw disordered eating behaviors normalized by the competitive team culture.
"As I became more interested and passionate about public health and epidemiology, I realized that eating disorders are very understudied from a population-health perspective," she said.
Beccia's primary mentor is Kate Lapane, PhD, professor of population & quantitative health sciences and associate dean of clinical and population health research. She is also mentored by S. Bryn Austin, ScD, professor of social and behavioral sciences at the Harvard Chan School of Public Health, professor of pediatrics at Harvard Medical School and founding director of the Strategic Training Initiative for the Prevention of Eating Disorders: A Public Health Incubator, with which Beccia collaborates.