Page Menu
Combined Neurology/Psychiatry Program


The UMass Neuropsychiatry Program 2019-2020
Left to right: Raphael Carandang, MD, Program Co-director; Kate Daniello, MD, Associate Program Director; Chris Freeman,MD PGY-4; Janette Abramowitz, MD PGY-6; Taylor Young, MD PGY-3; Delia Bakeman, DO PGY-5; Joe Keating, MD PGY-5; Josh Claunch, MD PGY-6; Pooja Modi, MD PGY-2; Alex Lichtenberg, MD PGY-1; Beth DeGrush, DO Associate Program Director; Sheldon Benjamin, MD Program Co-director
Codirectors: Elizabeth DeGrush, DO and Kate Daniello, MD
Associate Training Director: Sheldon Benjamin, MD
The combined program in Psychiatry and Neurology is a six-year program leading to board eligibility in both Neurology and Psychiatry. The PGY-1 year of internal medicine fulfills the requirements for Neurology residency and includes 8 blocks of medicine (including ER and ICU), 2 blocks of neurology, and 2 blocks of psychiatry. The PGY-II and PGY-III years are spent primarily in psychiatry. The PGY-IV and PGY-V years are spent primarily in neurology. The PGY-VI year is a combined psychiatry/neurology year in which the resident functions in a similar capacity to the neuropsychiatry fellow. This program accommodates one resident per year. Combined Neuropsychiatry trainees have the unique opportunity to follow patients in the neuropsychiatry clinic under the supervision of Dr. DeGrush, Dr. Benjamin and Dr. Eisenstock from the PGY-II through PGY-VI years. One of the codirectors (Dr. DeGrush) and the Associate Neuropsychiatry Training Director (Dr. Benjamin) are dual boarded in Neurology and Psychiatry. Dr. Daniello is boarded in Neurology and is the Program Director for the General Neurology Program at UMASS as well.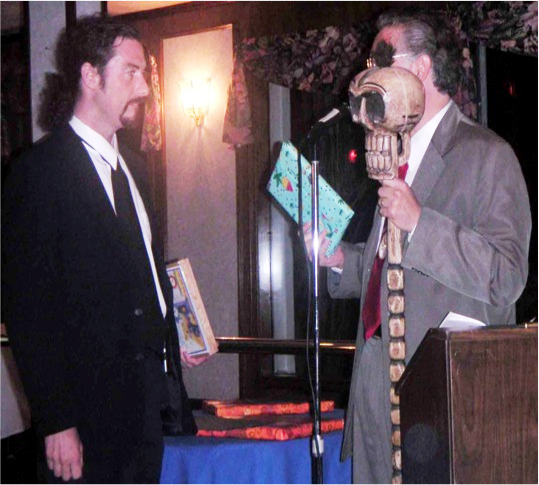 Dr. Benjamin, holding the Neuropsychiatry Crew Stick as he presents a diploma to Andrew Sewell, MD, the first graduate of the UMass Combined Neuropsychiatry Program at the 2004 Graduation banquet.
Combined program applicants must be interviewed by both programs, typically over two days. Applicants should take into account the stresses inherent in a longer training program when considering combined training. Program administration is shared between the two programs. Detailed information about each of the above programs is available at the UMass Psychiatry and UMass Neurology Programs. Neuropsychiatry applicants are strongly encouraged to join the American Neuropsychiatric Association. Membership includes subscription to the Journal of Neuropsychiatry and Clinical Neurosciences, which is strongly recommended reading.
Some applicants have expressed concerns about the accreditation status of combined training programs. The ACGME (Accreditation Council on Graduate Medical Education) considers combined training programs to be "tracks" within accredited programs and considers all graduates to have come from accredited programs. The American Board of Psychiatry and Neurology (ABPN) guarantees that all trainees within approved combined training programs will become board eligible in both fields on graduation. A number of departments have indicated an interest in starting new combined training programs. The ACGME is gradually working to simplify the oversight of combined programs and the ABPN has said that it will consider allowing new combined programs to be founded when the ACGME further clarifies its policy. Download the ABPN/AADPRT (American Association of Directors of Psychiatry Residency Training) letter about combined training programs.