Postdoctoral Fellowship awarded to Dr. Laura Moreno-Leon
Date Posted: Monday, November 02, 2020
Laura Moreno-Leon, a postdoctoral fellow in the Department of Ophthalmology and Visual Sciences has won the prestigious Horae Gene Therapy Center Postdoctoral Research Fellowship award. This award will help Dr. Moreno-Leon continue her studies on understanding the molecular underpinnings of X-linked retinitis pigmentosa, a debilitating inherited blindness disorder due to the death of our light-sensing neurons called photoreceptors.
"I am honored to receive this fellowship. This is a great opportunity for me and will help me gain experience in the field and move my career towards becoming an independent scientist," said Dr. Moreno-Leon.
Laura works in the laboratory of Dr. Hemant Khanna, an Associate Professor and Director of Basic and Preclinical Research component of the Advanced Ocular Therapeutic Program (AOTP) (www.umassmed.edu/khannalab). Hemant Khanna said, "Laura has strong grasp on nucleic acid biology and basic cellular and molecular mechanisms underlying gene expression regulation." In the Khanna lab, she is working to gain novel insights into the role of RPGR, a frequently mutated protein in X-linked retinitis pigmentosa, in modulating the dynamics of sensory cilia. These sensory cilia help our photoreceptors detect and process the light signal. "I am proud of Laura's achievement and thank the review committee for recognizing the potential of her work," said Khanna.
By utilizing patient-derived fibroblasts, induced pluripotent stem cells, and mouse and porcine models of retinal degeneration, Laura's work in the Khanna Lab will reveal new knowledge of disease mechanisms and provide an excellent platform to design and test new therapies for blinding diseases.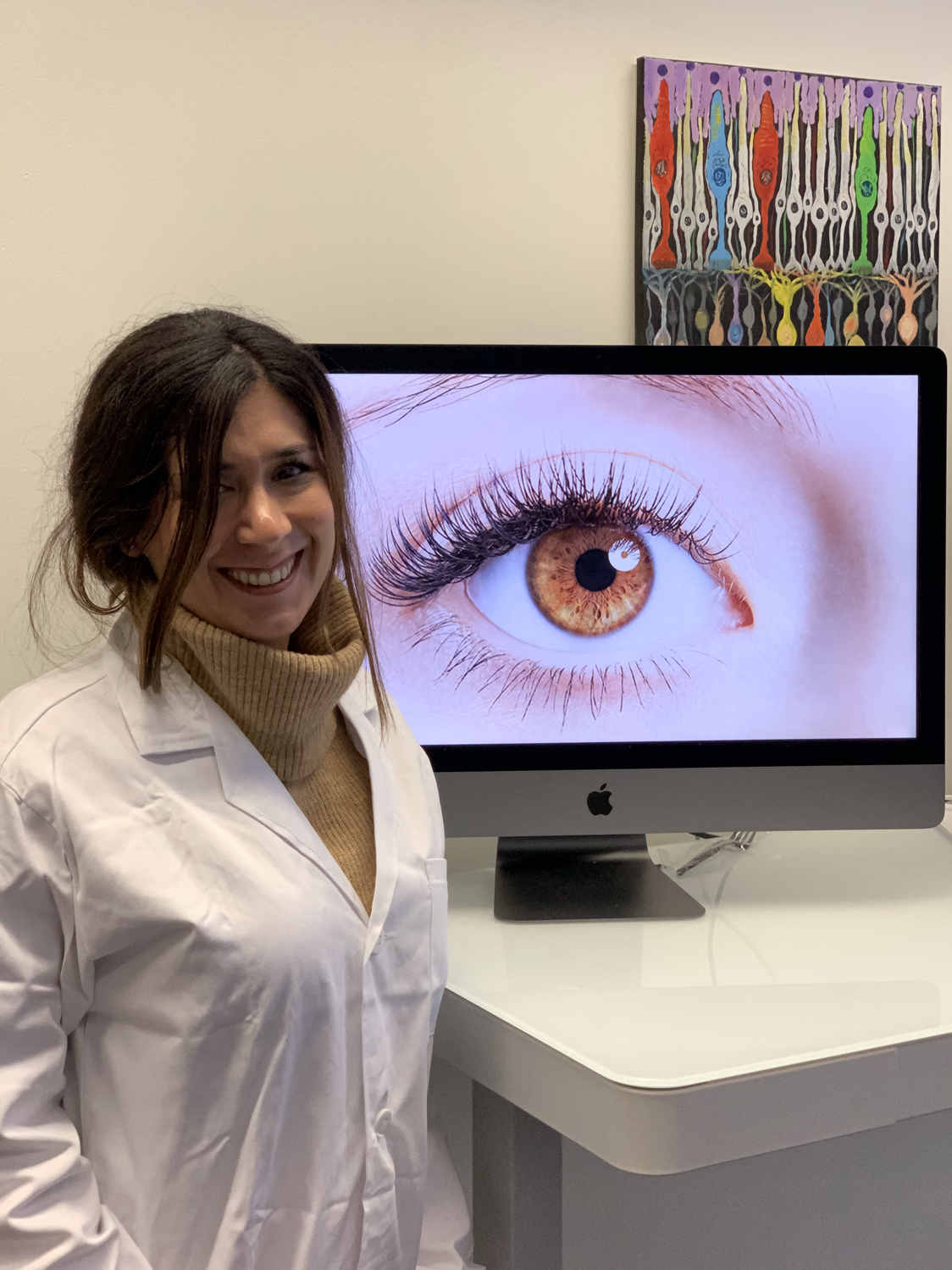 Dr. Moreno-Leon
Human dermal fibroblasts were induced to grow cilia followed by staining with acetylated a-tubulin (red) and ARL13B (green) antibodies to detect cilia. Yellow/orange color shows co-localization points of these proteins. Such localization is altered when there is a disease-causing mutation in RPGR. Nuclei are stained blue.