UMass Chan Medical School Licenses Gene Therapy Program Utilizing Mini-Gene Approach for Leber Congenital Amaurosis Type 10 to Iveric Bio
Date Posted: Monday, September 16, 2019
The UMass Chan Medical School has licensed the exclusive global rights to develop and commercialize novel adeno-associated virus (AAV) gene therapy product candidates for the treatment of Leber Congenital Amaurosis type 10 (LCA10) to IVERIC bio, Inc. The "minigene" therapy approach, developed from research by Associate Professor of Ophthalmology Hemant Khanna, PhD, in collaboration with Professor Guangping Gao, PhD at the Horae Gene Therapy Center at UMass Chan Medical School will target CEP290 gene, the most common cause of LCA, in a mutation independent manner.
"Our collaboration with IVERIC bio has moved our 'minigene' approach to the next stage of development," said Dr. Khanna. "It shows the potential of using a truncated gene to partly or completely compensate for the disease caused by the loss of CEP290 function." A degenerative disease, LCA is caused by a group of recessively inherited genetic mutations that lead to an inability to make a light-sensitive protein in the retina. Mutations in the CEP290 gene are the most common cause of LCA, responsible for up to 25 percent of cases.
While recent forays into gene therapy approaches for other forms of LCA have been encouraging, the large size of CEP290 has been a roadblock to using adeno associated virus (AAV) vectors, which are the conventional means to transport a correct gene into the eye. In 2017, Dr. Khanna developed an approach to deliver a shorter version of the human CEP290 gene with clinically safe, AVV viral vectors.
Additionally, IVERIC bio and UMass Chan Medical School have expanded their collaboration by entering into a sponsored research agreement and an exclusive option agreement for rights to develop and commercialize novel AAV gene therapy product candidates utilizing a mutation independent minigene therapy approach for the treatment of vision loss in autosomal recessive Stargardt disease and USH2A-related inherited retinal diseases (IRDs). These are a group of large orphan IRDs and the latter includes Usher syndrome type 2A and USH2A-associated nonsyndromic autosomal recessive retinitis pigmentosa.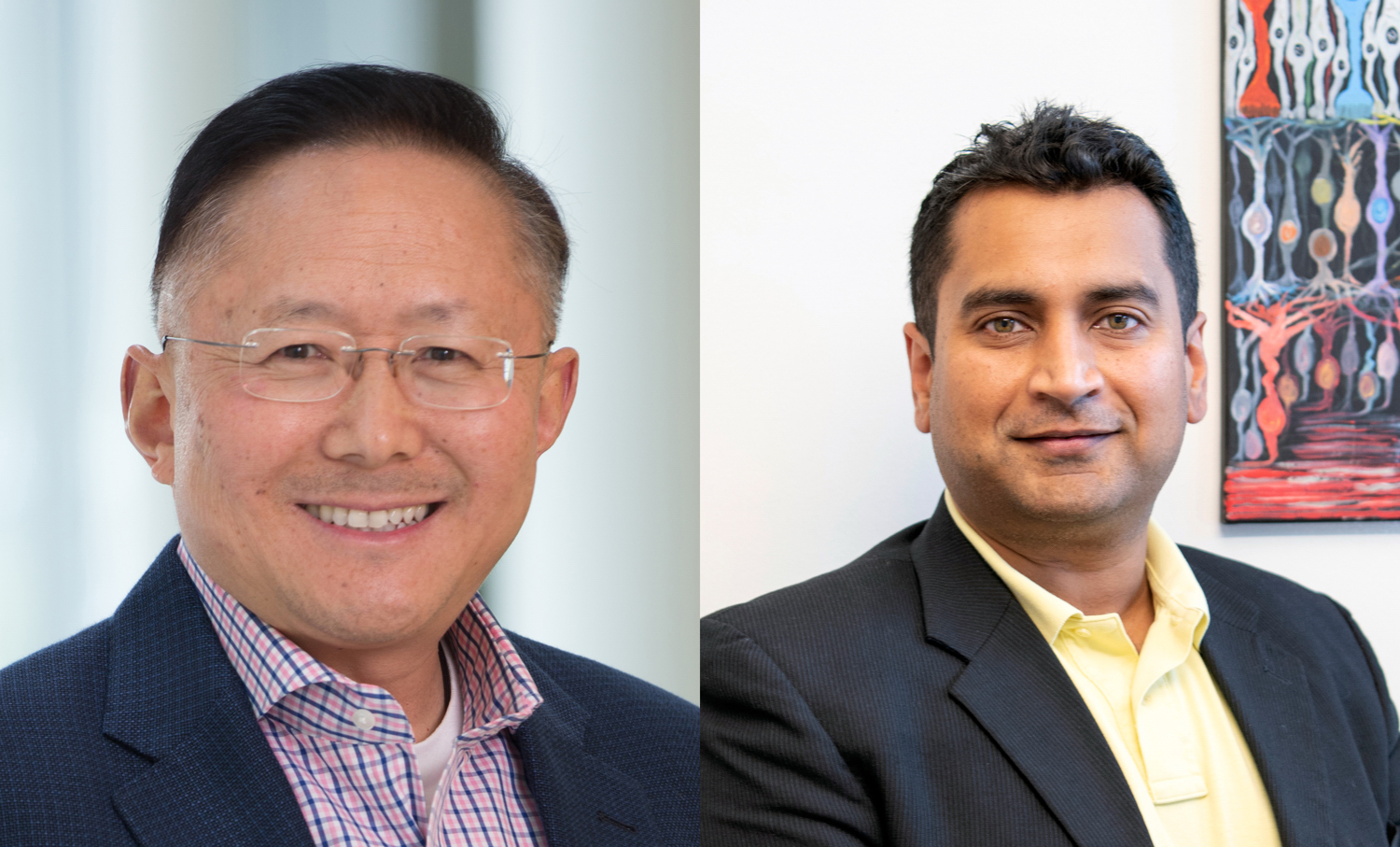 (Left to right) Guangping Gao, PhD and Hemant Khanna, PhD
About the UMass Chan Medical School
The UMass Chan Medical School, one of five campuses of the University system, is comprised of the T.H. Chan School of Medicine, the Morningside Graduate School of Biomedical Sciences, the Tan Chingfen Graduate School of Nursing, a thriving research enterprise and an innovative public service initiative, ForHealth Consulting. Its mission is to advance the health of the people of the commonwealth through pioneering education, research, public service and health care delivery with its clinical partner, UMass Memorial Health Care. In doing so, it has built a reputation as a world-class research institution and as a leader in primary care education.
The Medical School attracts more than $264 million annually in research funding, placing it among the top 50 medical schools in the nation. In 2006, UMass Chan's Craig C. Mello, PhD, Howard Hughes Medical Institute Investigator and the Blais University Chair in Molecular Medicine, was awarded the Nobel Prize in Physiology or Medicine, along with colleague Andrew Z. Fire, PhD, of Stanford University, for their discoveries related to RNA interference (RNAi). The 2013 opening of the Albert Sherman Center ushered in a new era of biomedical research and education on campus. Designed to maximize collaboration across fields, the Sherman Center is home to scientists pursuing novel research in emerging scientific fields with the goal of translating new discoveries into innovative therapies for human diseases.