Page Menu
UMMS Talent Community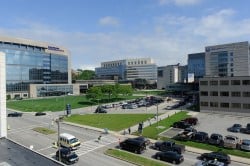 About
The career community pool at UMMS allows individuals to create a profile and submit a resume, which then allows them to a be available for job openings. By submitting your resume into the career community pool you will automatically be put into a pool for recruiters to see and evaluate.
Benefits
The talent community at UMMS allows candidates to submit a resume without applying for a specific job. This allows applicants to receive the best possible position in accordance to their credentials and resume. Joining our career community pool will allow individuals to be connected and have clear communications with UMMS. Also, it shouldn't take you any longer than five to ten minutes to apply.
Next Steps
Submit Your Resume to UMMS! Join our UMMS Talent Community where we do active searches within our Talent Community to match your career interests to our job opportunities. Click here, to sign up for alerts and submit your resume.