Page Menu
Cystic Fibrosis
Cystic fibrosis (CF), the most common lethal, single-gene disorder affecting Northern Europeans and North Americans, is caused by mutations in the cystic fibrosis transmembrane conductance regulator (CFTR) gene. CFTR is a chloride channel and a regulator of other ion channels, and many aspects of the CF phenotype are directly related to ion channel abnormalities attributable to CFTR mutation. What remains less clear, however, is how CFTR mutation leads to persistent endobronchial infection with Pseudomonas aeruginosa and severe airway inflammation which are the hallmarks of the lung pathology in CF.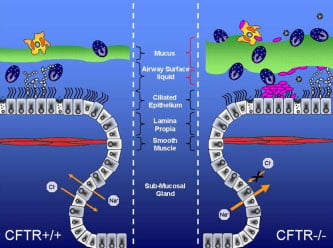 One theory, which remains controversial, contends that CFTR mutation primes CF cells to release greater quantities of pro-inflammatory cytokines than non-CF cells. One line of evidence in support of this theory is a Pseudomonas agarose bead airway infection model, in which CFTR knockout mice demonstrate greater weight loss and mortality and higher levels of pro-inflammatory cytokines than control mice. One of the limitations of this model has been its technical complexity and a wide variability of responses among individual animals. Because of the need for a technically simpler mouse model for inflammatory lung disease in CF, our laboratory has recently developed a new approach based on Aspergillus fumigatus (Af) sensitization and challenge.
This model reproduces certain key immunologic and pathologic aspects of allergic bronchopulmonary aspergillosis (ABPA) an inflammatory lung phenotype that is much more common in CF patients than in any other clinical context. In the animal model studies, CFTR knockout mice demonstrated up-regulated levels of IL4 prior to sensitization, and subsequent to sensitization developed a hyper-IgE response and markedly divergent cytokine expression (including increased IL13, IL4, IL2, IL10, and KC) as compared with non-CF.
While this CFTR-dependent inflammatory phenotype is potentially very promising, it has raised more questions than it answered. In particular, the divergence of expression of cytokines that are predominantly produced within lymphocytes, macrophages and other non-epithelial cells raises the possibility of an important role of CFTR itself in non-epithelial cells.