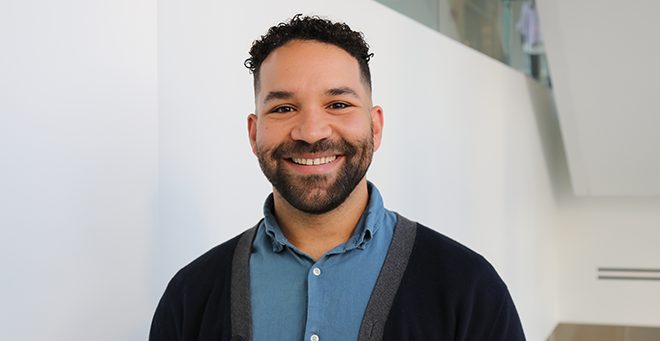 Zach Dyer, MPH, an MD/PhD student at UMass Chan Medical School, has received a Ruth L. Kirschstein National Research Service Award Individual Predoctoral Fellowship from the National Institute on Minority Health and Health Disparities to support the structural racism effect index he built for his thesis research.
The index, with more than 40 data elements including measures of criminal justice, education, transportation, housing and poverty, is one of the first social determinants of health indices to use an explicit framework of structural racism. Social determinants of health are conditions in which people live, learn and work that affect health and quality of life. The three-year grant will allow Dyer to fine-tune the tool and disseminate it to policy and decision makers.
"The hope of the work is that if we identify the areas that have been historically under-resourced because of racist policies like redlining, we can then identify areas where we can invest. This can help guide governments, nonprofits and other institutions to invest in areas that have been historically under-resourced to try to intentionally end that cycle of disinvestment," Dyer said.
Dyer researched the history of redlining, which was carried out in the 1930s by the Home Owners' Loan Corporation by making maps of the areas deemed the riskiest for mortgages, with neighborhoods receiving the highest scores outlined in red. This practice is often pointed to as a paragon of structural racism.
"The redlining practice identified where there weren't really many resources in the area. The housing stock wasn't that great. They were generally low-income areas that tended to also be where there were high proportions of people of color," Dyer said. "The areas that scored the highest back in the 1930s are also scoring highest on the index that I created. So that validated one of the central beliefs of this work, which is that areas deprived of resources tend to stay that way—how resources are distributed among neighborhoods is something that can only be overcome intentionally."
Dyer shifted his research focus after he saw that the areas hit hardest by COVID-19 were also the areas that were historically under-resourced.
"We were seeing that COVID was disproportionately harming and hospitalizing Black, Latine and Indigenous populations, and that couldn't be fully explained by the existing indices. I thought, we need to do a better job of being able to kind of tell this story and predict these sorts of things," Dyer said.
Dyer's mentor is Arlene Ash, PhD, professor of population & quantitative health sciences. Dr. Ash has pioneered tools for using administrative data to monitor and manage health care delivery systems, including the Neighborhood Stress Score.
"Zach's work spans the boundary between health care and public health by revealing which investments are most needed to improve health in particular communities," Ash said. "I already know of several researchers and policy actors who are eagerly awaiting access to this important tool for quantifying and addressing health inequities."
Dyer, co-president of White Coats for Black Lives at UMass Chan and a former student trustee, is acting director of public health for the City of Worcester. The Worcester native worked as deputy director of public health prior to enrolling at UMass Chan in 2017.
Related UMass Chan News stories:
UMass Chan student trustee focused on diversity, equity and inclusion
Vibrant stoles at Commencement to honor accomplishments of students of color
Melissa Goulding receives highly competitive NIH Kirschstein Award
Lauren O'Connor receives prestigious NIH Kirschstein Award