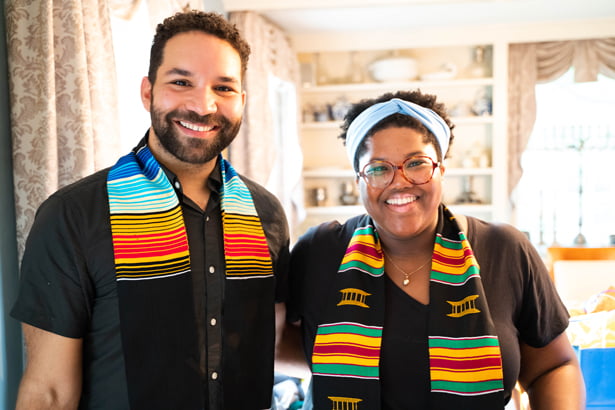 A new tradition will be celebrated at UMass Chan Medical School on Friday, June 3, when graduating students of color from all three schools will be given colorful Kente and multicultural stoles to be worn as regalia during Commencement. The stole ceremony, organized by the UMass Chan chapter of White Coats for Black Lives with support from the Diversity and Inclusion Office, was held off campus last year due to COVID-19 restrictions. It is part of ongoing efforts to illuminate the stories and experiences of underrepresented students.
MD/PhD candidates Abiola Ogunsola and Zachary Dyer, co-presidents of the UMass Chan chapter of White Coats for Black Lives, were instrumental in creating this new tradition, with the support of the Diversity and Inclusion Office. They said the stole is a symbol of overcoming barriers that underrepresented students face in pursuit of higher education, especially in STEM education.
"The stoles highlight and honor the hurdles we surpass to achieve our graduate and professional degrees in a system that once excluded us due to our ethnicity, race or social class," Ogunsola said.
"It is important to recognize the importance of making it through a system that has not only not always been welcoming to folks like us, but directly harmful toward Black and brown bodies. It is a celebration of both the successes of the present and a future where doctors, nurses and scientists reflect the communities they are serving," Dyer added.
Ogunsola said she sees the presentation of the stoles as a moment of pride and motivation as she continues to study in hopes of becoming a scientist.
"Seeing my friends, mentors and colleagues walk across the graduation stage last year, after our inaugural event, adorned with their stoles, served as a reminder that we can not only make it to the end, but excel," she said.
Dyer said the event is a celebration for all students of color, whether they are graduating yet or not, due to the camaraderie they have formed across school and disciplines.
"It is important to celebrate Black, Indigenous and Latina students who are graduating because not only is it a momentous occasion and the culmination of a lot of hard work, but these are the folks that have supported and mentored me through my journey here, directly or indirectly," he said.
Kente fabric comes from Ghana, West Africa, and represents unity, belonging, renewal and prosperity. The stoles acknowledge the perseverance of students from paths historically underrepresented in academia along the educational journey. The stole ceremony is open to all graduating students and will take place at 6 p.m. on June 3 in the Cube on the third floor of the Albert Sherman Center. Dinner will precede the program.
Commencement 2022 will take place on Sunday, June 5, on the campus green in front of the Lazare Research Building. Guest seating will begin at 11 a.m. with the processional starting at 11:45 a.m. The ceremony will begin promptly at noon and will be available to watch live at www.facebook.com/umasschan and youtube.com/UMassChanMedicalSchool.
Related UMass Chan news stories:
UMass Chan Medical School to celebrate Classes of 2022 at 49th Commencement on June 5
PhD students examine 'changing faces of science'
UMass Medical School holds first Learners of Color Orientation
Justice, equity, diversity and inclusion celebrated at annual GSBS awards ceremony
UMass Chan student trustee focused on diversity, equity and inclusion