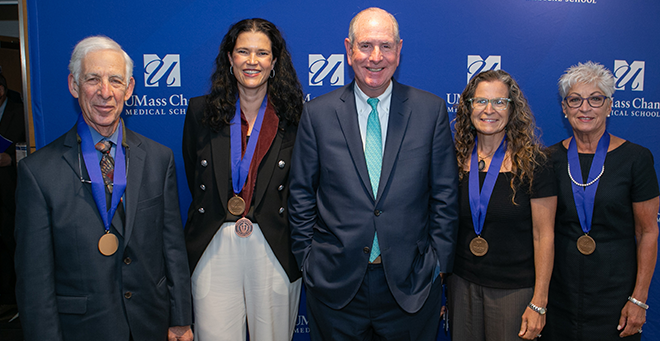 In his annual Convocation address to the UMass Chan Medical School community on Thursday, Sept. 16, Chancellor Michael F. Collins expressed optimism for the Medical School's ambitious future and touted the enormous momentum moving the school forward. Chancellor Collins highlighted the many milestones marked at UMass Chan in the past year, including the Morningside Foundation's $175 million transformational gift, the opening of the VA Community-based Outpatient Clinic and the groundbreaking for the new education and research building.
Collins applauded collaborative efforts across the campus and the school's commitment to local communities. He expressed thanks to the school's many supporters and lauded the innovative work of the faculty.
For all these reasons and more, it is easy to be bullish about our future," said Collins to the assembly in the Albert Sherman Center auditorium. "I assure you that because of the efforts of our learners, faculty and staff, our state's public medical school is sound as we enter this new academic year."
Provost Terence R. Flotte credited faculty for their achievements.
This ceremony is a genuine celebration of the faculty, who are the heart and soul of this academic institution. They collectively advance our mission, one defined by ingenuity and passion, as well as by commitment, collaboration and collegiality," Flotte said.
A highlight of the ceremony was the announcement of the recipients of the 2022 Chancellor's Medals for excellence in teaching, scholarship, service and clinical excellence.
Melissa Fischer, MD, MEd, professor of medicine and assistant vice provost for interprofessional and instructional innovation, received the Chancellor's Medal for Distinguished Teaching. Dr. Fischer is invited to present the 2023 Last Lecture, a celebration of teaching, and received the Manning Prize, a $10,000 prize established by UMass Board Chair Robert Manning and his wife, Donna, both of whom are UMass alums.
Dr. Fischer, for more than two decades, you have shaped the education of medical students, residents and fellows. Throughout your record of innovation in course development and engagement, you have served as course coordinator and curriculum developer over many years and multiple iterations," Collins said.
Marian Walhout, PhD, the Maroun Semaan Chair in Biomedical Research and chair and professor of systems biology, was awarded the Chancellor's Medal for Distinguished Scholarship.
Collins said Dr. Walhout is "known as a most respected member of our scientific community, as a dedicated mentor and an inspiring role model for women in science."
This is most fitting for one who has made such a major impact on science and our community," Collins said.
The Chancellor's Medal for Distinguished Clinical Excellence was presented to Ira Ockene, MD, the David J. and Barbara D. Milliken Professor in Preventive Cardiology and professor of medicine. Dr. Ockene has been teaching at UMass Chan since 1975, "as the paint was drying and before the university's hospital opened," Collins said
"This award is a fitting recognition for one who has cared for individual patients and for populations; for one who has engaged the community in its role in prevention; and for one who has served this institution and your patients for nearly five decades," Collins said.
After leaving the stage, Ockene paused and turned to his fellow faculty members in the audience and said, "We did a lot of work together. Thank you all."
The Chancellor's Medal for Distinguished Service was awarded to Deborah DeMarco, MD, professor of medicine.
Dr. DeMarco is invited to carry the Medical School's ceremonial mace at events throughout the academic year.
"This recognition is most fitting for one who has been such a stalwart leader for our medical school over your many years of service," Collins said.
The following faculty members were honored and invested as named professors:
Eric Baehrecke, PhD, professor of molecular, cell & cancer biology, is the inaugural holder of Our Danny Cancer Fund Chair in Biomedical Research II.
Roberto Caricchio, MD, professor of medicine and chief of the Division of Rheumatology in the Department of Medicine, is named to the Myles J. McDonough Chair in Rheumatology
Michelle A. Kelliher, PhD, professor of molecular, cell & cancer biology and co-leader of the Cancer Genetics Program, is the inaugural holder of the Our Danny Cancer Fund Chair in Biomedical Research I.
Jeanne B. Lawrence, PhD, professor of neurology and pediatrics, is the new Leo P. and Theresa M. LaChance Chair in Medical Research.
Alan C. Mullen, MD, PhD, professor of medicine and academic chief of gastroenterology, is invested as the Mary C. DeFeudis Chair in Biomedical Research.
Celia A. Schiffer, PhD, chair and professor of biochemistry & molecular biotechnology, is the new holder of the Arthur F. and Helen P. Koskinas Professor of Biochemistry and Molecular Biotechnology.
Related UMass Chan news stories:
Morningside Graduate School of Biomedical Sciences recognizes 41 new PhD candidates
Tan Chingfen Graduate School of Nursing celebrates 63 DNP students in white coat ceremony
Convocation 2021: Chancellor Collins outlines vision for new era at UMass Chan