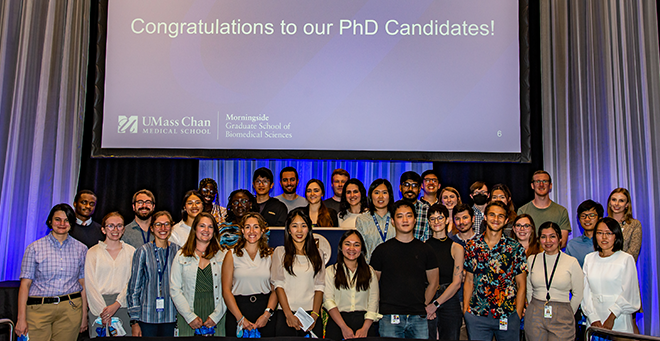 The Morningside Graduate School of Biomedical Sciences at UMass Chan Medical School honored 41 PhD candidates during its annual Qualifying Exam Recognition Ceremony on Wednesday, Sept. 14. Candidates are active in a range of research areas, including Huntington's disease and ALS.
Mary Ellen Lane, PhD, the Donna M. and Robert J. Manning Chair in Biomedical Sciences, professor of neurobiology and dean of the Morningside Graduate School of Biomedical Sciences, said the candidates are partners and collaborators in UMass Chan's research mission.
"Intellectual and personal development don't end with candidacy, and don't even end with graduation," Dean Lane said. "I encourage you to embrace the opportunity to engage in a transformational developmental process, and to continue growing, learning and stretching out of your comfort zone."
Passing the qualifying exam is a significant milestone for PhD students; it marks their transition to formal candidates for doctoral degrees. Milo Vantine is a PhD candidate from Middleton who does nanopore sequencing work in the lab of William Flavahan, PhD, assistant professor of molecular, cell & cancer biology. Vantine said the qualifying exam process helped him develop his confidence as a researcher.
"I now feel I have a solid grasp not only on my research topic, but on how to present my work for a wide audience. The feedback I received from my committee has helped me to develop my presentation, writing and overall professional communication skills," Vantine said.
The new doctoral candidates received laser pointers and business cards. They will also receive Morningside Graduate School of Biomedical Sciences lab coats.
"This is one of the last major milestones in our curriculum, and it feels great to be on the other side of it," said Samuel Liu, a PhD candidate from Las Vegas who focuses on neural circuit development in the lab of Michael Francis, PhD, professor of neurobiology.
Lane presented MD/PhD students Jillian Belgrad and Abigail Hiller with the Zelda Haidak Scholarship in Cell Biology. Belgrad, a Weston native, is studying Huntington's disease and how DNA repair accelerates disease progression in patients. Belgrad is mentored by Anastasia Khvorova, PhD, the Remondi Family Chair in Biomedical Research and professor of RNA therapeutics. Arlington native Hiller is conducting ALS research with Paul L. Greer, PhD, assistant professor of molecular medicine, and Robert H. Brown Jr., DPhil, MD, the Donna M. and Robert J. Manning Chair in Neurosciences and professor of neurology. Hiller is elucidating the impact of knocking out microglial-expressed genes in a mouse model of ALS.