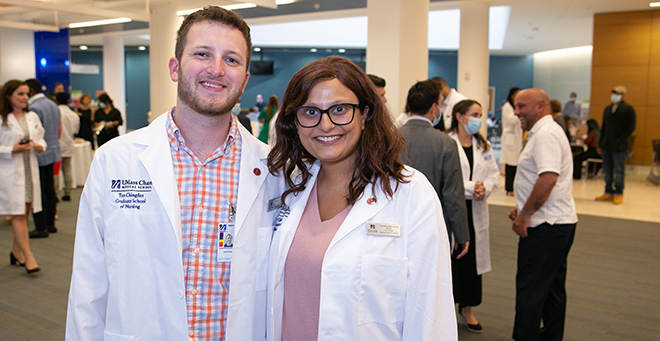 The Tan Chingfen Graduate School of Nursing at UMass Chan Medical School presented 63 Doctor of Nursing Practice students with white coats at the Transition into Clinical Practice ceremony on Tuesday, Sept. 13.
"The white coat ceremony symbolizes the next step. It's a significant milestone," said Oscar de la Rosa, a nursing student in the family nurse practitioner track. "It's a symbol of our capabilities as nurses to care, diagnose and treat patients from all walks of life."
Family, guests and UMass Chan faculty members were on hand to watch the second-year students receive and don their white coats and recite the Nightingale Pledge in unison in the Albert Sherman Center auditorium.
"I'm finally going to be a provider," said Christy Mangiacotti, a student in the adult-gerontology acute care nurse practitioner track. "Now that we're getting the white coat and we're transitioning into practice, I can actually see myself doing this for the rest of my life."
DNP students Kelly Garcia and Madeline Lane addressed the meaning of receiving a white coat.
"The white coat, with its symbolism of humanism, collaboration and scientific excellence, parallels our understanding of nursing and nursing science, our principles and values of nursing, and our mission as members of this university," Lane said.
The White Coat Ceremony was started in 1993 by the Arnold P. Gold Foundation to welcome students to health care practice and elevate the value of humanism as the core of health care. The ceremony has since been adopted by medical schools across the globe. In 2014, nursing schools worldwide began taking part in the ceremony.
In June, the Tan Chingfen Graduate School of Nursing joined the growing number of nursing schools holding ceremonies as it hosted it's inaugural white coat ceremony as part of UMass Chan's pre-commencement celebrations. The event will now continue to be part of Convocation celebrations each September.
Adult-Gerontology Acute Care NP Track
Jazzlynn Bennett
Gregory Brotske
Allison Carlson
Lediana Cerri
Dianna Chamberlain
Christina Connolly
Julie Darcy
Shayna Diedrich
Gianna DiPinto
Peter Harris
Rebecca Litwin Snydeman
Christy Mangiacotti
Nicole Mattson
Grace McCullough
Angela Patterson
Maggie Quinn
Francis Carlo Sabas
Reginald Sarpong
Jacob Waldman
Family NP Track
Noah Barkley
Karla Burns
Marisa DaSilva
Maria Davila
Oscar de la Rosa
Emily Dillon
Samantha Ellis
Kendra Engfer
Rachel Gitahi Murumba
Edward Glazebrook
Morgan Hill
Courtney Hunt
Kourtney Mantyla
Reham Mousa
Joshan Niroula
Rachel Odillia
David Runyan
Kamaldeep Sidhu
Amanda Sylvia
Jacqueline Vittum
Psychiatric Mental Health NP Track
Maria Barros
Brenda Chaloux
Loretta Cunningham
Chikodiri Ebe
Bonnie Fitzgerald
Casandra Gale
Florence Gichuhi
Elyse Goodman
Kay-Ann Gunning
Liza Hunter
Marlyn Jules-Clerger
Sheri Knox
Nisha Naik
Shirah Neumann
Jaime Onofrey
Naomi Pappas
Jen Richardson
Sara Smoller
Ryan Sullivan
Kayla Thomas
Adult-Gerontology Primary Care NP Track
Isabella DiMare
Maria Karamourtopoulos
Grace Milone
Patricia Quill
Related UMass Chan news stories:
Tan Chingfen Graduate School of Nursing welcomes 43 to field at pinning ceremony
Convocation week Sept. 12-16 celebrates students, faculty at start of academic year
Tan Chingfen Graduate School of Nursing celebrates student and faculty achievement