Page Menu
Marlina Duncan, EdD
Vice Chancellor for Diversity and Inclusion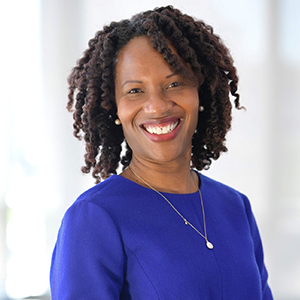 Marlina Duncan, EdD, (she/her/hers) is vice chancellor for diversity and inclusion. She is a higher education administrator and scholar, with extensive experience working on issues of diversity, equity and inclusion. Dr. Duncan provides strategic direction for a wide range of programs and initiatives to build and sustain a diverse and inclusive environment at UMass Chan Medical School. She coordinates educational and enrichment efforts and measures and reports DEI progress to ensure institutional accountability. She is a thought leader and a trusted advisor to the administration, faculty and students. Through her work as a DEI administrator, she has gained an understanding of and experience with effective evaluation and assessment practices with a focus on learning and the ability to guide data informed efforts. Some of these efforts include assistance with underrepresented-in-medicine faculty hires, historically underrepresented graduate student recruitment and retention practices, and training to improve department climate.
Prior to arriving at UMass Chan in December 2020, she served as the assistant vice president of academic diversity and associate dean of diversity initiatives in the Graduate School at Brown University. At Brown, she led initiatives to increase participation of underrepresented populations by emphasizing the importance of recruitment, retention, program climate and culture, and co-curricular programming. She was able to lay the foundation for institutionalizing diversity and inclusion best practices at the university. During her tenure at Brown University, the graduate school received more applications from historically underrepresented groups than at any other time in its history. Also, during this time, Brown admitted more underrepresented students to graduate studies and hired more faculty from underrepresented backgrounds than at any other time in the history of the institution.
Duncan has an undergraduate degree in biology from Westfield State University and a doctorate in science education from UMass Amherst.