Page Menu
Translational Medicine Core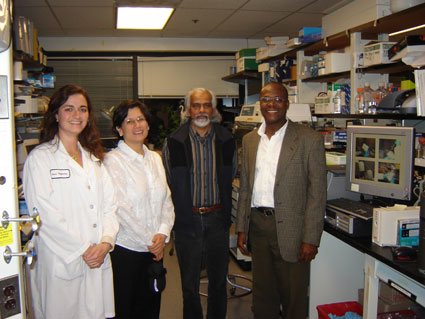 Katherine Luzuriaga (second left) and Kalipha Bility (far right),
National AIDS Control Program
UMass Chan CFAR TRANSLATIONAL
MEDICINE CORE
The UMass Chan CFAR Translational Medicine Core is directed by Drs. Katherine Luzuriaga and Thomas Greenough and is composed of a Clinical Sciences Core and a Clinical Immunology Core. The Translational Medicine Core is responsible for providing services that support the design, implementation, regulatory compliance, and biostatistical analysis of patient-oriented and translational research. Additional key services provided by the Translational Medicine Core include sample processing, storage and shipping, and data management. By providing services and support, the Translational Medicine Core reduces the interval between experimental concept and the implementation of clinical studies. The Clinical Immunology Core provides protocols, reagents, and services for studies involving immunological assays. In addition, the Clinical Immunology Core is actively involved in training and assay development. We partner with the UMass Chan Flow Cytometry Core to maintain a highly utilized Biosafety Level 3 flow cytometry and sorting facility.
SUMMARY OF ROLE
The mission of the UMass Chan CFAR Translational Medicine (Clinical) Core is to provide the infrastructure and services that promote innovative patient-oriented and translational HIV-related research. Specific goals are:
To facilitate interactions between basic scientists and clinical investigators that lead to patient-oriented studies that improve our understanding of HIV pathogenesis and the development of novel prevention or treatment strategies.
To provide the necessary expertise and services to facilitate patient-oriented and translational research.
To coordinate services with other CFAR Core Laboratories.
To support the training and advancement of new investigators in HIV-related research.
To provide community education regarding HIV and UMass Chan CFAR Clinical HIV Research.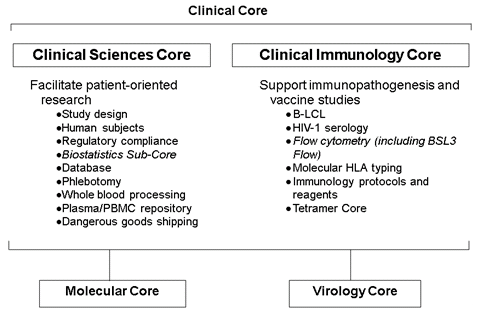 The UMass Chan CFAR Translational Medicine Core has a strong track record of providing support for the development of collaborations between basic and clinical scientists, and the development of clinical or translational studies. The BSL3 Flow Core is the only one of its kind on campus and continues to be heavily used. The CFAR Translational Medicine Core has also been active in training and outreach. In summary, the Translational Medicine Core brings together and coordinates key elements and resources required for clinical and translational studies. These activities have served numerous CFAR investigators and have resulted in several new grants and initiatives.