Page Menu
Accelerating research, expanding discoveries
$10 million endowment gift from Li Weibo Charitable Foundation to support world-leading research at UMMS
A new institute for rare diseases research at UMass Medical School has been created with extraordinary support from the Li Weibo Charitable Foundation in China. The $10 million endowment gift—one of the largest charitable donations to the Medical School in its history—builds on the school's already substantial accomplishments in the fields of gene therapy, RNA biology and RNAi technology to accelerate the development of novel therapeutics for a host of disorders.
The Li Weibo Institute for Rare Diseases Research is home to existing faculty whose expertise has led to profound discoveries related to diseases like ALS, cystic fibrosis, Canavan disease, Rett syndrome, Huntington's disease, fragile X syndrome, CDKL5 disorder and others.
"At UMass Medical School, our scientists and physician–investigators have long been committed to discovering life-changing treatments and cures for these diseases," said Chancellor Collins. "This generous gift from the Li Weibo Charitable Foundation will allow us to expand on our discoveries, bringing research support and hope for people around the world."
Additionally, Li Weibo contributed $750,000 to establish an annual scholarship for up to five doctoral students in the Graduate School of Biomedical Sciences.
"This extraordinary gift from the Li Weibo Charitable Foundation bolsters UMass Medical School's world-class research and creates new opportunity for its world-class students," said UMass President Marty Meehan. "Expanding rare disease research at UMass Medical School directly supports the UMass mission to improve lives in the commonwealth, across the nation and throughout the world."
Li Weibo said he established the Li Weibo Charitable Foundation in 2013 to support a number of causes, including biomedical research and education. He said he plans to donate half of his personal wealth to the foundation.
"In the global scientific research field, quantum leaps in biomedical and human health research will be made in the near future," he said. "My goal is to participate in and promote biomedical research."
Li Weibo said he recently met with Chancellor Collins and faculty at UMass Medical School and was deeply moved by the progress being made in the labs.
"I am eager to support this globally leading medical school in establishing a rare diseases institute in the hope of helping more patients and their family members who need our help," he said. "The diseases are rare, but the love, care and compassion in our society is abundant and we want to support these families in their time of need."
Terence R. Flotte, MD, the Celia and Isaac Haidak Professor of Medical Education, executive deputy chancellor, provost and dean of the School of Medicine, said the institute will build on discoveries already underway at UMass Medical School.
"With the tremendously visionary and generous gift from Mr. Li Weibo, UMass Medical School will have an unparalleled ability to make impacts on an entire range of terribly disabling diseases," Dr. Flotte said. "Every week it seems, I receive emails from mothers and fathers of children with these kinds of diseases. After many years of having to sadly tell them that we have hope for the future but nothing to offer now, we are now going to be able to, in some cases, say that if they are willing to participate in pioneering trials, we may in fact be able to help them."
Guangping Gao, PhD, the Penelope Booth Rockwell Professor in Biomedical Research, professor of microbiology & physiological systems and director of the Horae Gene Therapy Center & Vector Core at UMass Medical School, and Michael Green, MD, PhD, Howard Hughes Medical Institute investigator, the Lambi and Sarah Adams Chair of Genetic Research, and chair and professor of molecular, cell & cancer biology, were named as co-directors of the institute.
UMass Medical School is a global leader in gene therapy and RNA biology—fields where the school has a rich history of discovery into how genes can be altered or modified to treat or prevent disease. UMMS is home to the Horae Gene Therapy Center and the RNA Therapeutics Institute, both led by pioneers in their fields who have made groundbreaking discoveries. Flotte was the principal investigator for the first use of recombinant adeno-associated virus (AAV) gene therapy in humans, using the vector in cystic fibrosis trials beginning in 1995, before shifting his emphasis to alpha-1 antitrypsin deficiency, a genetic cause of emphysema. His studies established important safety data and contributed seminal observations regarding the molecular mechanisms of rAAV persistence and immune response in humans. Craig C. Mello, PhD, Howard Hughes Medical Institute Investigator and the Blais University Chair in Molecular Medicine, was awarded the 2006 Nobel Prize in Physiology or Medicine, along with colleague Andrew Z. Fire, PhD, of Stanford University, for their discoveries related to RNA interference (RNAi).
There are more than 7,000 diseases defined as "rare" by the National Institutes of Health, generally those that impact fewer than 200,000 people. Rare disease research underway at UMass Medical School includes the study of alpha-1 antitrypsin deficiency, ALS, Canavan disease, CDKL5 deficiency, cystic fibrosis, Duchenne muscular dystrophy, facioscapulohumeral muscular dystrophy, fragile X syndrome, Friedreich's ataxia, frontotemporal dementia, Huntington's disease, neurofibromatosis, Rett syndrome, Pompe disease, retinitis pigmentosa and Tay Sachs.
---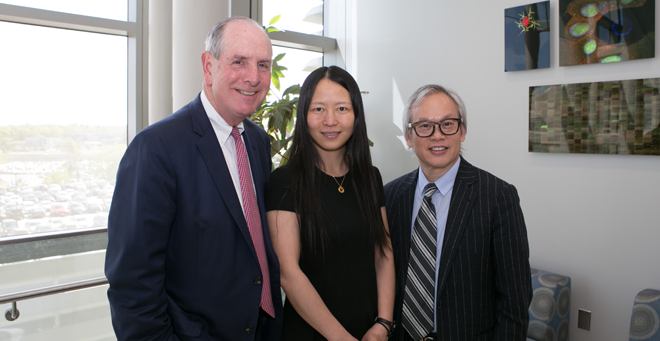 Another gift from the Li Weibo Charitable Foundation in 2018 established a newly endowed chair at UMass Chan Medical School to support research initiatives that advance the fundamental understanding of human biological systems and offer new and innovative pathways to treat human disease. Zhiping Weng, PhD, was named the inaugural recipient of the chair. Learn more.