Page Menu
Lab News
Happy Holidays!

December 19, 2021
The Bucci Lab came together to celebrate the Holiday Season with Lasagna, pork roast, cookies, and cake. The freezing temperatures asked for gloves, hats, a bonfire, and some mold cider in the cups.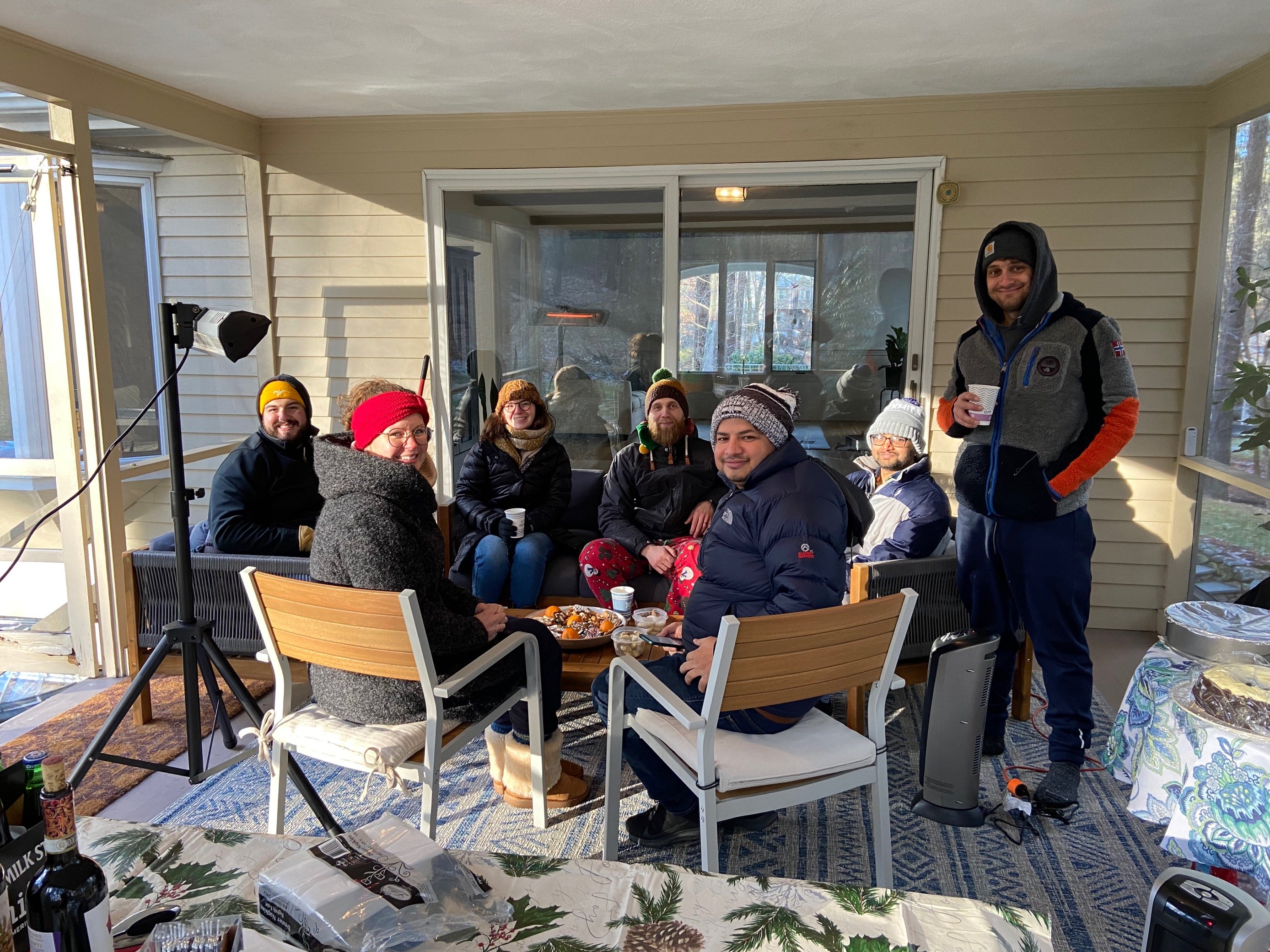 ---
Paper published in JCI Insight
August 17, 2021
Our work on associations between oral dysbiotic microbiome and Long COVID-19 disease has been published in JCI Insight. Find the paper here: doi: 10.1172/jci.insight.152346
Inflammation-type dysbiosis of the oral microbiome associates with the duration of COVID-19 symptoms and long-COVID.
Haran JP*/**, Bradley E*, Zeamer AL, Cincotta L, Salive MC, Dutta P, Mutaawe S, Anya O, Meza-Segura M, Moormann AM, Ward DV, McCormick BA, Bucci V**


---
Paper in press in Microbial Cell

April 26, 2021
Our work on bacterial community dynamics induced by a proanthocyanidin-enriched cranberry extract has been accepted for publication in Microbial Cell. Find the final version here: doi: 10.15698/mic2021.06.752
Proanthocyanidin-enriched cranberry extract induces resilient bacterial community
dynamics in a gnotobiotic mouse model.
Neto CC*/**, Mortzfeld BM*, Turbitt JR, Bhattarai SK, Yeliseyev V, DiBenedetto N, Bry LM, Bucci V**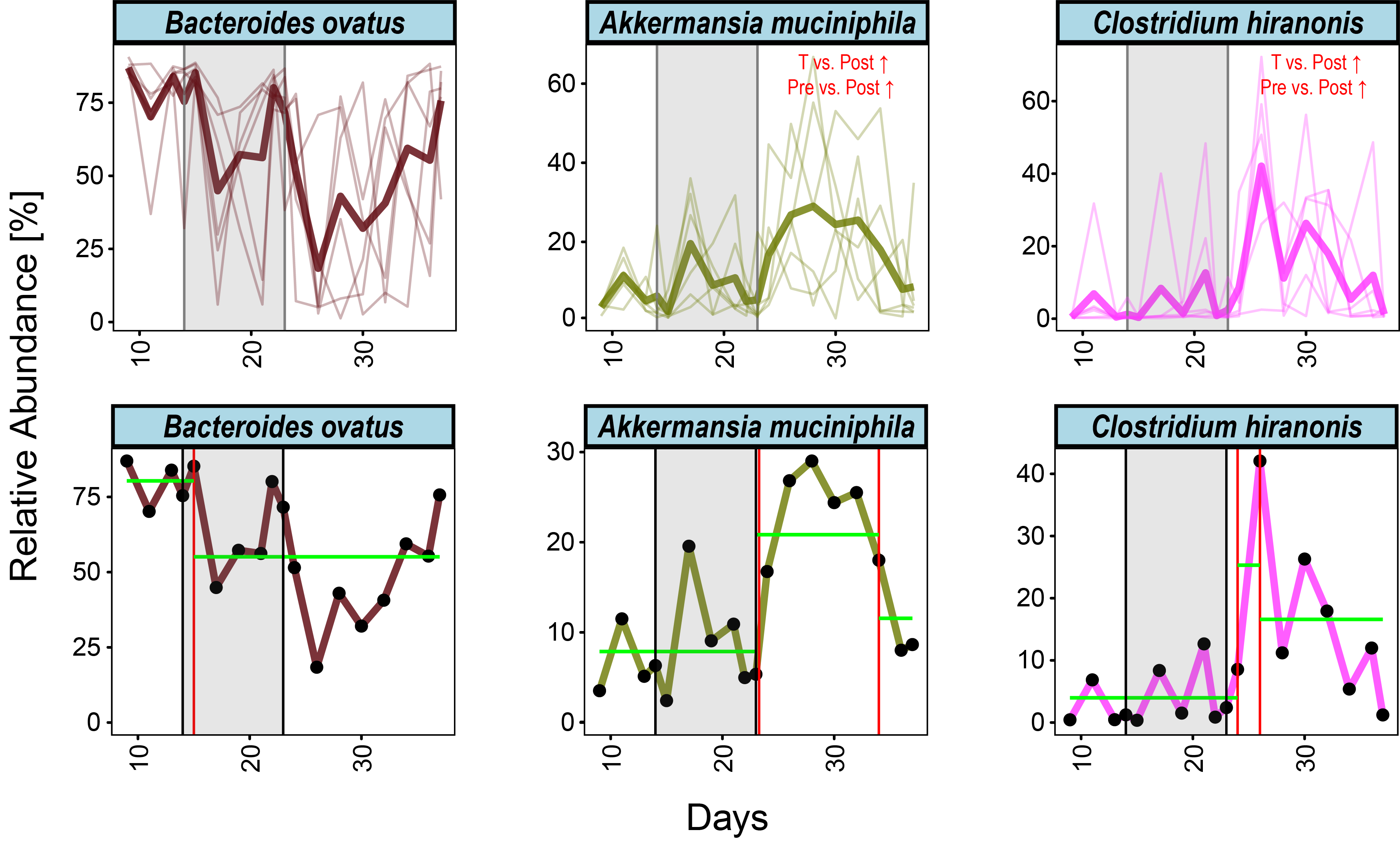 ---
Paper published in Gut Microbes

March 25, 2021
We are proud to announce that our latest work in collaboration with John Haran and Beth McCormick has been published in Gut Microbes. doi: 10.1080/19490976.2021.1897209
The high prevalence of Clostridioides difficile among nursing home elders associates with a dysbiotic microbiome
John P. Haran, Doyle V. Ward, Shakti K. Bhattarai, Ethan Loew, Protiva Dutta, Amanda Higgins, Beth A. McCormick, Vanni Bucci
---
Paper published in Nature Communications

January 10, 2021
We are proud to announce that our latest work has been accepted by Nature Communications. Great job from everyone involved! doi: 10.1038/s41467-021-21475-y
Gastrointestinal microbiota composition predicts peripheral inflammatory state
during treatment of human tuberculosis.
Wipperman MF*, Bhattarai SK*, Vorkas CK, Maringanti VS, Taur Y, Mathurin L, McAulay K, Vilbrun SC, Francois D, Bean J, Walsh KF, Nathan C, Fitzgerald DW, Glickman MS**, Bucci V**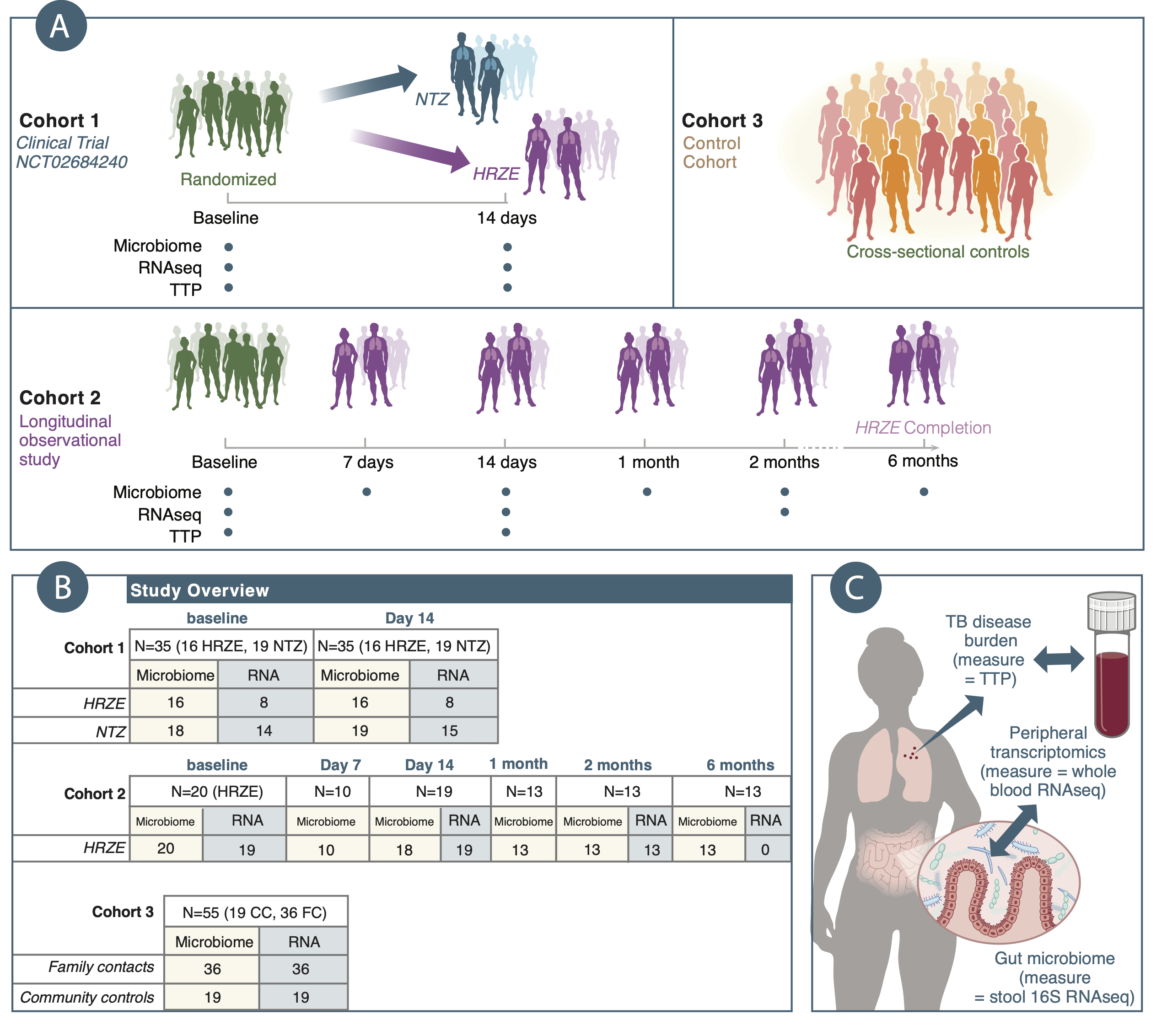 ---
Funding from the National Institutes of Health (NIH)
September 9, 2020
Our lab just got awarded a new collaborative grant with John Haran (PI), Beth McCormick (Co-I), Doyle Ward (Co-I), Paul Greer (Co-I) and Vanni Bucci (Co-I) to determine association between microbiome an immune-senescence in Alzheimer's Disease.
"Understanding the microbiome-gut-brain axis in Alzheimer's disease and its role in cognitive decline"
For more details check out our funding page!
---
Scalable learning of interpretable rules for the dynamic microbiome domain
July 17, 2020
Our PhD student Suhas Maringanti on scalable rule learning for interpretation of microbiome data in collaboration with UMass Dartmouth and the Gerber lab at Harvard Medical School.
Recorded for the ICML 2020 Workshop on Human Interpretability in Machine Learning.
Find the manuscript pre-print on biorxiv! (doi: 10.1101/2020.06.25.172270)
---
Funding awarded by the Department of Defense (DoD)
July 7, 2020
I'm excited to announce that the lab will get future support from the United States Department of Defense. The 3-year award is for our project 'Mathematical modeling and synthetic biology to discover new ESBL-PE eradicating microbiome-based therapeutics' and will start August 1st 2020. For more details check out our funding page!
---
Paper published in mSystems
June 23, 2020
Our new paper discussing the influence of biofilm structure on the bacterial community dynamics and the interplay with bacteriophages is now online! Check it out! doi: 10.1128/mSystems.00877-19
Biofilm Structure Promotes Coexistence of Phage-Resistant and Phage-Susceptible Bacteria
Simmons EL, Bond MC, Koskella B, Drescher K, Bucci V**, Nadell C**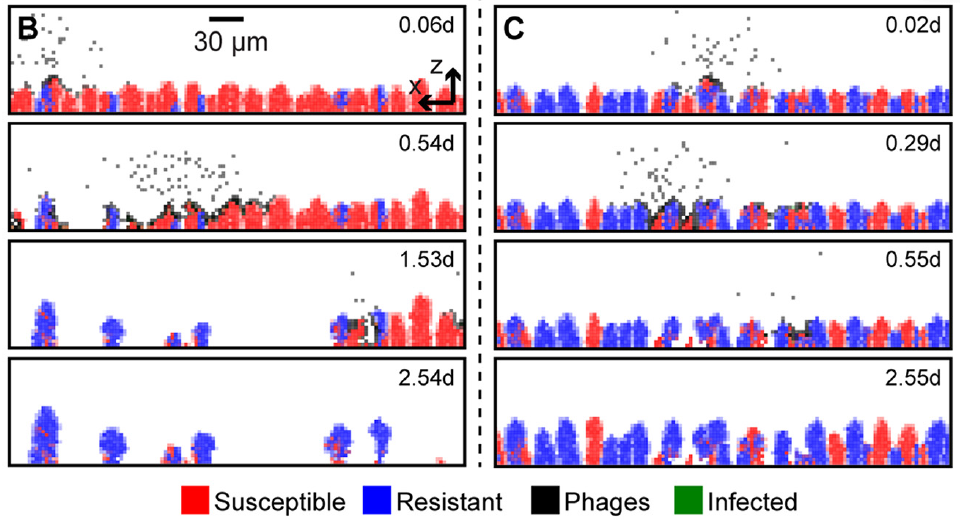 ---
How simple mathematics help explaining epidemics
March 30, 2020
In the light of the recents events, I used one of my online lectures to tackle the simple mathematics behind the spreading of infectious diseases. Stay home and stay safe!
---
Paper published in ACS Infectious Diseases
February 25, 2020
The paper from our wetlab regarding the potency of the antimicrobial peptide MccH47 against drug-resistant Enterobacteriaceae has just been published in ACS Infectious Diseases. We also describe a new variant of the class IIb microcin, termed MccH47-MGE.
Microcin H47: A Class IIb Microcin with Potent Activity Against Multidrug Resistant Enterobacteriaceae
Palmer JD, Mortzfeld BM, Piattelli E, Silby MW, McCormick BA, Bucci V.
doi: 10.1021/acsinfecdis.9b00302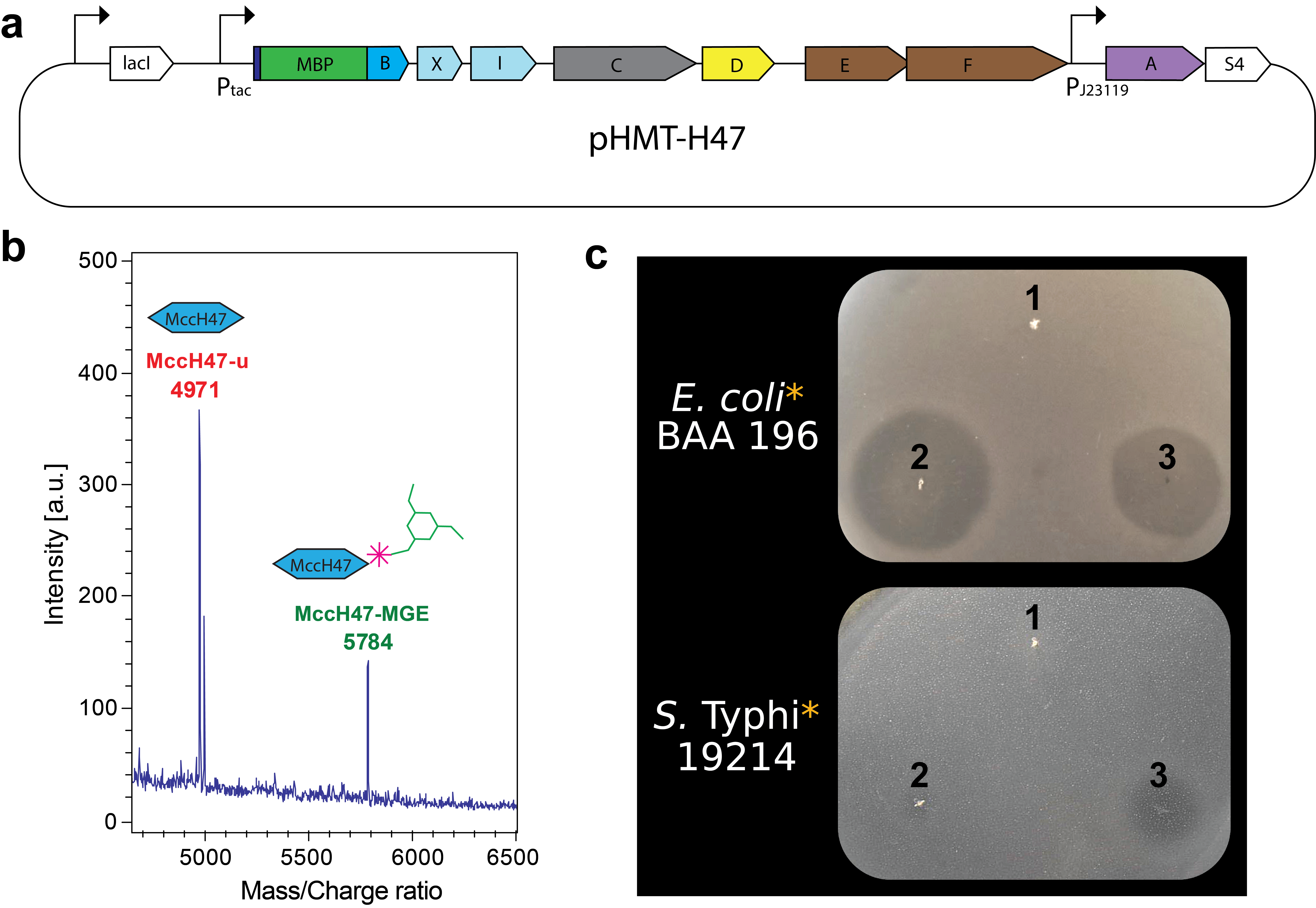 ---
Move to UMass Medical School
September 1, 2019
I'm happy to announce that we have moved our lab to the UMass Medical School in Worcester, MA.
We leave behind great memories at the UMass Dartmouth campus and are looking forward to exciting projects and new collaborations in the Department of Microbiology and Physiological Systems.
You'll find us at:
University of Massachusetts Medical School
Microbiology and Physiological Systems
Albert-Sherman-Building AS8
368 Plantation St • Worcester MA 01605-2324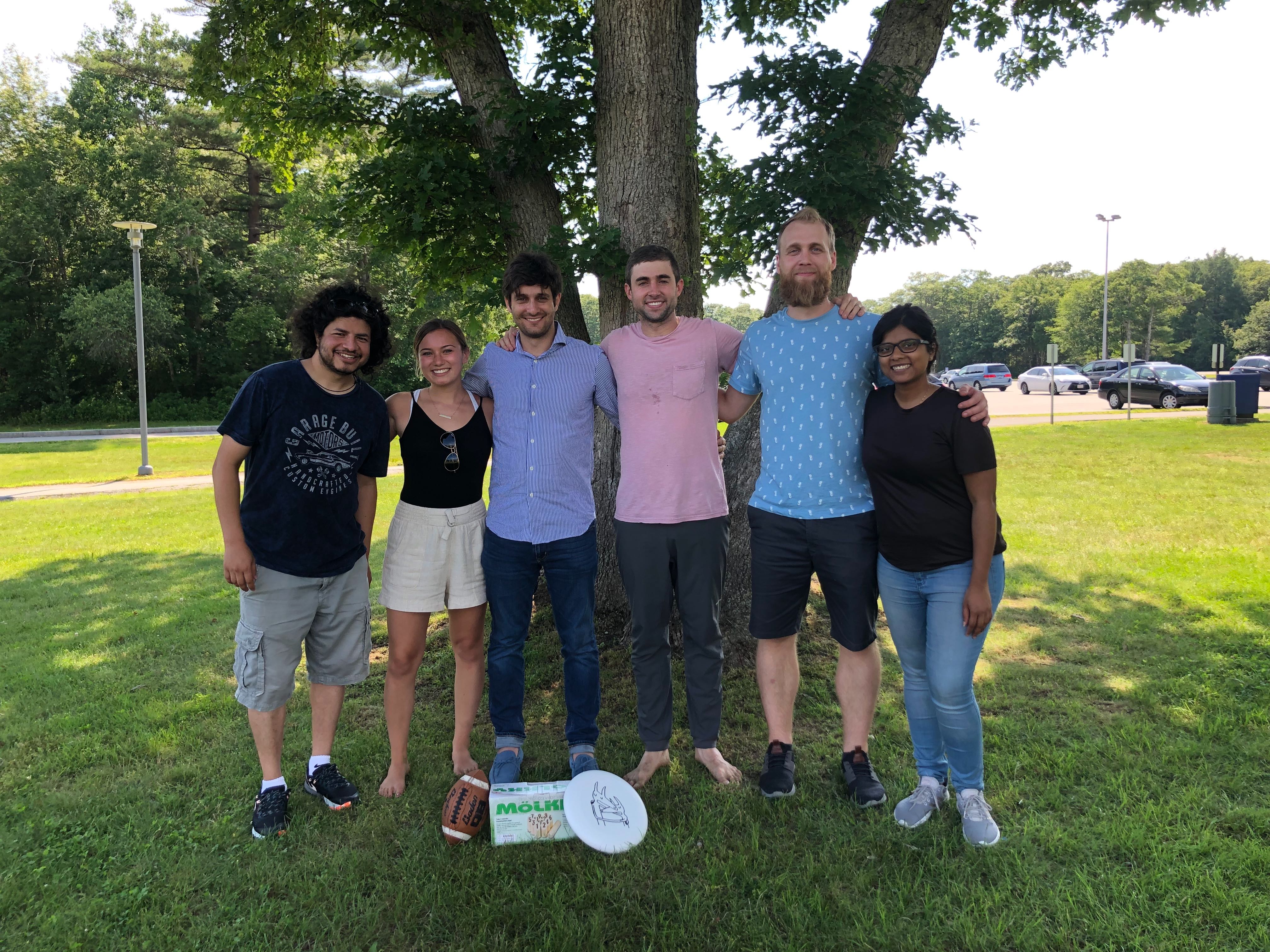 Summer 2019 at UMass Dartmouth
From left to right: Shakti Bhattarai, Haley Dupre, Vanni Bucci, Jacob Palmer, Benedikt Mortzfeld, Pratibha Harrison
---
Paper published in BBMT
July 22, 2019
Our paper collaborative paper with Matt Kelly (Duke University) and Patrick Seed (Northwestern University) "Gut Colonization Preceding Mucosal Barrier Injury Bloodstream Infection in Pediatric Hematopoietic Stem Cell Transplant Recipients: a Strain-Level Analysis" has been published today in Biology of Blood and Marrow Transplantation.
---
Paper published in mBio
May 7, 2019
Our collaborative work with the UMMS CMR on investigating the axis Alzheimer's – Immune System – Microbiome has been published today in mBio by John P. Haran*, Shakti K. Bhattarai*, Sage E. Foley, Protiva Dutta, Doyle V. Ward, Vanni Bucci and Beth A. McCormick
https://mbio.asm.org/content/10/3/e00632-19
"Alzheimer's Disease Microbiome Is Associated with Dysregulation of the Anti-Inflammatory P-Glycoprotein Pathway"
---
New paper on bioRvix
February 26, 2019
Check the preprint on bioRviX of new collaborative paper!
Thanks to Matt Simmons (Bucci Lab) and Matt Bond (Nadell Lab) for the amazing computational and experimental work, and of course to my dear friends and collaborators Carey Nadell (Dartmouth College) and Knut Drescher (Max Planck Institute for Terrestrial Microbiology).
https://www.biorxiv.org/content/10.1101/552265v1.abstract
"Evolutionary dynamics of phage resistance in bacterial biofilms"
---
Paper in Nature
January 24, 2019
I am happy to announce to have contributed to the new paper from Kenya Honda lab published today in Nature: https://www.nature.com/articles/s41586-019-0878-z
"A defined commensal consortium elicits CD8 T cells and anti-cancer immunity"
3