Page Menu
Vera Rinaldi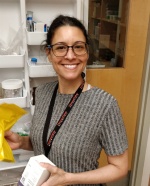 Meet Vera Rinaldi. Vera is from Brazil, and she is a postdoctoral associate in Ollie Rando's Lab.
I know Vera likes good wine and good food. She enjoys painting and being creative. She also has a cute little indoor garden in her house with peppers and other herbs that she likes to use when cooking. She loves her dog Chico, who is very protective of her. I asked Vera a few questions about her journey, so you all get to know her a little more.
What is your current research focus?
Currently we are trying to characterize a non-canonical inter-organ communication that might play a role in paternal epigenetic inheritance. Thus far I have mostly focused on the central nervous system, and we have exciting evidence that the brain sends mRNA through the blood stream to the male reproductive tract, more specifically the epididymis (an organ located adjacent to the testis).
How would you describe your research?
My research is very exciting but also very challenging.
Why is your research important outside the scientific community?
This pathway has the potential to be involved in paternal epigenetic inheritance, translating the paternal lifestyle - environment - into specific messages that, once assimilated by the male reproductive tract, may modulate sperm cargo, thus altering offspring's phenotype. This research will provide the groundwork for future studies about how environmental conditions are interpreted and what the consequences are for future generations. It also can be groundbreaking and shift our understanding of inter-tissue communication and its role in how different mammalian organs communicate.
What set you on this trajectory of becoming a scientist?
I believe my curiosity towards everything – yes! EVERYTHING! – is what set me in the path to become a scientist. However, my trajectory has been anything else but straight forward…
Whereas my parents always nurtured my fascination towards the unknown and gave me freedom to explore my passions, the social and cultural context in which I grew up tended to marginalize girls with aspirations to become scientists. With aspirations that highly differed from those inside my social circle, I struggled to find people that shared the same values and interest and was often seen as an outcast. This struggle was taxing and there were many instances that I felt like I could not take it anymore. However, my inquisitive mind always pushed me back into the scientific career. But it was only after I moved to the USA that I felt like I could pursue a career that aligned with my passion, and curiosity, and I applied for the Ph.D. program at Cornell.
Why did you choose this lab/department at UMMS?
I have always valued having the freedom to explore and I have found in Dr. Rando an awe-inspiring mentor and someone that would allow me to pursue rather unconventional questions.