Page Menu
Population-Based Urban & Rural Community Health (PURCH) Track
The Population-based Urban and Rural Community Health (PURCH) Track is patient-centered and integrated within the community. It focuses on population health, healthcare disparities and health issues specific to urban and rural communities.
The PURCH track augments the core Chan School of Medicine curriculum with an emphasis on population health, healthcare disparities and health issues specific to urban and rural communities.
PURCH is a community of students, faculty, and community members who share a passion to improve community health by addressing healthcare disparities.
PURCH Gets You Out of the Classroom, Into the Community
"PURCH adds another layer to my education—one not available in a classroom setting."
—Kathryn Norman, Class of 2021
Fast Facts about PURCH
PURCH is NOT just for those interested in primary care.
You'll benefit from this innovative program whether your interest is primary care, specialty care, academia, or any other medical career.
PURCH matriculates approximately 25 students a year.
Now in its fourth year, PURCH has a total of 96 medical students.
PURCH is based at Baystate Health—one of the largest academic health systems in New England.
Your time will be split between the two campuses.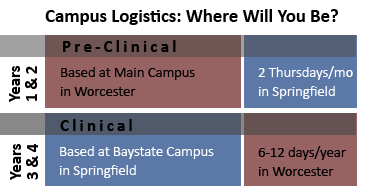 Please visit the PURCH website for program details. Be sure to check out the PURCH Class Profiles to meet the students and see what they are doing.
How to Apply to the PURCH Track:
Application to the PURCH Track at UMass Chan Medical School is made through the secondary application process. All applicants must select whether or not they wish to apply to PURCH.
Be sure to review our application process for additional details.
PURCH Interview Process:
Those applying to the PURCH Track will be reviewed for both the PURCH Track and the traditional MD program. MD/PhD applicants may also choose to be considered for PURCH.
If you are invited to interview, you will participate in a 2-day interview process that involved one day at the main campus in Worcester and another day at our regional campus in Springfield, UMass Chan Medical School-Baystate. MD/PhD applicants interviewing for PURCH will have a third interview day at our main campus in Worcester as well.
At each campus, you will participate in the Multiple Mini Interview (MMI), meet first and second year medical students and/or residents, receive an overview of UMMS and the PURCH Track, and take a tour of each campus.
PURCH Selection Process:
There are approximately 25 spots available in the PURCH Track each admissions cycle.
For your PURCH application to move forward you must:
Confirm your interest in matriculating into the PURCH Track within ten days of your PURCH interview
Perform satisfactorily in the MMI at both campuses
Acceptance to the PURCH Track is a joint acceptance between your degree program (MD or MD/PhD) and the PURCH Track.
If you are not accepted into the PURCH Track, you will still be considered for the traditional MD program. The same goes for MD/PhD applicants applying to PURCH.
Be sure to review the policies on opting in or out of the PURCH Track before applying.
Please direct your questions about PURCH to the Chan School of Medicine's Office of Admissions at admissions@umassmed.edu or 508-856-2323.