Page Menu
Residency Program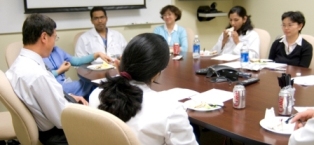 A four-year ACGME accredited training program in combined anatomic and clinical pathology (AP/CP), and three-year programs in straight Anatomic Pathology (AP) or straight Clinical Pathology (CP) are offered. The Departments of Pathology provides comprehensive training in all aspects of pathology with the primary goal of training residents for careers in academic and hospital pathology.
In-depth training in anatomic pathology includes:
autopsy surgical pathology

cytopathology

gastrointestinal pathology

genitourinary pathology

gynecologic and perinatal pathology

breast pathology

head and neck pathology

pediatric pathology

bone and soft tissue pathology

neuropathology

dermatopathology

hematopathology

renal pathology

electron microscopy

immunohistochemistry

molecular diagnostics

forensic pathology
In depth training in clinical pathology includes:
chemistry,

hematology,

transfusion medicine

immunology

microbiology

cytogenetics

HLA and tissue typing

toxicology
A broad range of electives are available including in-depth experiences in selected areas of general and subspecialty pathology. Clinical research with financial support from the department is available for interested residents. The department also offers formal accredited fellowship training in GI/Liver pathology, Breast/GYN pathology, dermatopathology, cytopathology, and hematopathology.